Top Trends for Exhibition Stands: Furniture
by Events 720, on 28/05/19 12:30 PM
One of the most important elements of your exhibition stand is ensuring there is a space for you to discuss your company's products and services with prospects. This can assist with increasing your sales and ultimately, increase your ROI for the expo.
You can create these spaces for discussion by having furniture on your stand. Anything from bar stools and side tables, to lounges and chairs can create an effective meeting space for you and your prospects.
The furniture on your stand should be functional and inviting, but still enhance the design of your exhibition stand. Something as simple as furniture can help add to the appeal of your exhibition stand by creating a warmer and more welcoming impression.
A custom exhibition stand designs continue to evolve with current trends, the furniture you select should also be on trend and compliment the style, theme and overall message you hope to achieve with your space. Different styles of furniture can be chosen to convey different messages about the brand, such as being approachable, clean cut, modern or bold. Incorporating these designs can keep your stand relevant and engaging.
We've created a list of the latest trends in trade show furniture to help you select your next pieces.
Trend #1: Natural materials
Natural materials are increasingly being used at exhibition stands to create an authentic and sustainable feel. If you're not ready to use these materials in your whole stand, then furniture is a great place to start to introduce a small taste.
The natural materials trend focuses on the use of wood or rattan. These materials project an authenticity that people naturally find intriguing and familiar.
As a bonus, these materials are also more sustainable and cause less harm to the environment than plastic or metal.


Image credit: Rattan Sofa, Minimalist Chair
Trend #2: Soft and comfortable
In 2019 we're saying goodbye to those uncomfortable, hard basic chairs. Instead, we're seeing more soft seatings, from ottomans to lounge chairs.
An exhibition stand is more than projecting your own brand, it's also about creating a comfortable space for your attendees. Interacting and engaging with your target audience will be much easier if they feel comfortable and relaxed in the space. Traditional business seats that are hard, cold and visually unpleasing, can impact the ability to communicate with your stand visitors and connect with them. Soft and plush seating create a relaxed atmosphere, while still remaining professional and fresh.
Not only do these feel great, but they can also look great at your stand. Lounge chairs and sofas can come in a range of colours that add a pleasant pop of colour and contemporary style to your exhibition stand.
It can be exhausting spending all day at a trade show. Most people will want a quick break from the walking and standing. If you implement lounge areas you can increase your chances of inviting attendees into your space and have them stay. This is a good opportunity for the staff to give the visitors their sales pitch.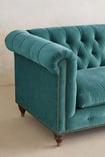 Image credit: Teal Lounge
Trend #3: Bold
This trend breaks free from traditional and simply furniture that we commonly see at expos. Choosing a piece of furniture that is unique and bold can be a great way to set yourself apart from competition. It can also be a great centre piece for other items of furniture.
Remember that the furniture you have at your exhibition stand will reveal a lot about your company and its position. It will influence the way attendees view the brand and dictate whether they are interested or not. This is why you should also ensure that you choose furniture that suits your brand and sends the right message.
Consider using stark, angular furnishings or curved edges. These are very popular for seating. Additionally, fabrics with a rich feel, such as velvet, and rich colour, such as royal blue, also make great bold pieces.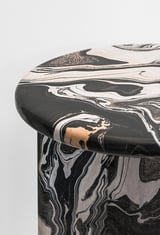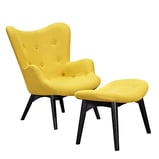 Image credit: Marble Table, Yellow Chair
Trend #4: Less is more
If your exhibition stand has the space, invest in a sofa or a few armchairs. However, be careful not to overcrowd the space with unnecessary items. Sometimes less really is more.
Lately, we're seeing more stands with minimal furniture on their stand. You only need enough furniture for the prospects you expect to stay at your stand. If you only have two staff at your exhibition stand, then you'll only need furniture to accommodate for these two members and the prospects they'll be talking with. Having too many places to sit makes your stand a target for lunch breaks chats between attendees who may not be interested in your company.
This space we created for Smart Choice Kitchens used very minimal furniture to provide a place for meetings without overcrowding a small stand size. We have different furniture packages to suit a range of needs. If you'd like more information on this, you can contact us by emailing letschat@events720.com or following the icon below.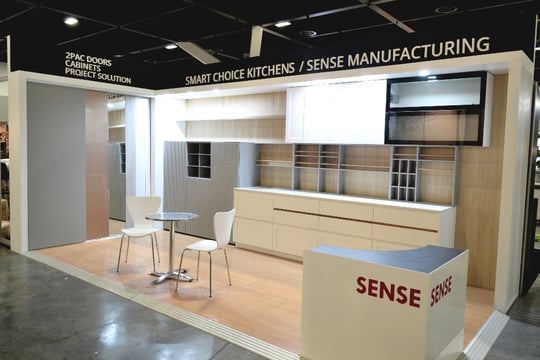 Trend #5: Charging stations
Technically, this isn't furniture, but we're continuing to see more of it at expos. Adding charging stations to your stand, along with comfortable chairs, has been a common trend that aims to attract more people to your stand. However, your stand team need to be ready to start a conversation with these new visitors at your stand. Charging stations can be customised with branding to help integrate them into your space and suit your stand.
There are many benefits to introducing charging stations to your booth. Check out this brief but informative article from Go Charge on the 5 Ways A Charging Station Can Make Your Trade Show Booth Pop.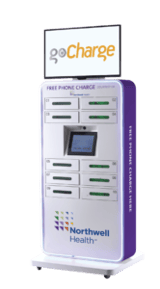 Image credit: Charging Stations
Trend #6: Goodbye white
Sometimes traditions are nice, and other times they need a freshen up. Instead of sticking to plain white furniture, go for soft grey or neutral tones. Grey is often a popular choice for furniture as it's not as visually bland and it suits a range of accent colours. This will work if your signage and graphics include bright colours to match your branding.


Image credit: Neutral Chair, Grey Bar Stools
Trend #7: Personalised elements
Your exhibition stand should speak to your target audience about what your brand is and what you offer. You can do this by adding personalised elements to your stand.
You can personalise items by adding your brands logo, or even by choosing pieces that are the same colour as your branding. This will help to enhance your brand within the space and attract attention to your stand.
This year the team at Events 720 created a completely customised stand for Narva, using personalised bar stools, camp chairs and bar runners. Doing so enhanced the brand presence within both the space and the expo.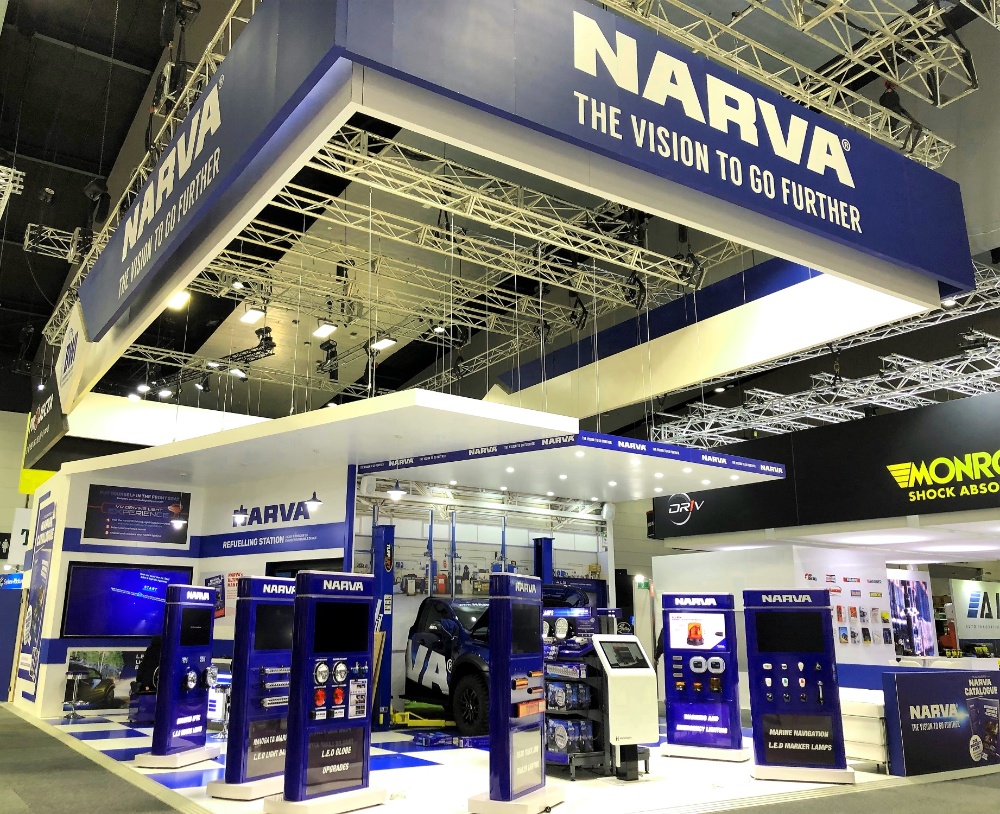 After reading through these current trends, you should be starting to visualise what you hope to achieve with your exhibition stand. If not, there's still time to brainstorm some great ideas. We're here to help every step of the way. Simply contact us at letschat@events720.com or click the icon below.