How to Select and Train Your Exhibition Stand Staff
by Events 720, on 4/04/19 12:20 PM
Your exhibition stand staff are one of the most important components of your expo experience. An eye-catching display, product demonstrations and marketing plan won't be effective if you don't have a team that can accurately represent your brand and work towards achieving your goals.
Your staff will be responsible for communicating with attendees and gathering those important leads. This is why they need to be selected and trained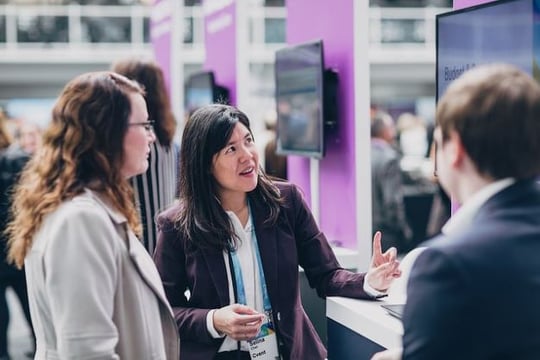 Image source: Cvent Flickr
How to choose your staff
When selecting staff for your exhibition display stand, there are certain qualities you should be looking for to ensure your team can represent your brand and achieve your expo goals.
Roles
Before choosing who will be at your exhibition stand you need to decide which roles you need to fill. The number of staff members you have will depend on the size of your stand. If your stand is small, then you don't want to overcrowd the space with your staff. Here are some roles you should consider:
Hosts
Presenters
Crowd gatherers
Sellers
Product experts
Experience
For your staff to accurately represent your company, they need to have experience and knowledge with your brand. Your staff will be required to answer questions and provide information to attendees, so it's important they can do this accurately. Consider the experience level of each of your employees.
Do they understand the objectives of your company? Do they know and respect its origins? Think about the quality of experience, rather than the quantity. For example, an employee who has been with your company for five years might not have the same knowledge, respect and understanding as an employee who has been there for one year. Have they attended an expo before? Exposing your employees to an expo prior is a great way to build their experience and understand of how the event works.
Skills
Everyone in your team will have a different skill set and areas they enjoy working in. The key to having great staff at your expo stand is to evaluate the personality and talents of your team members and assign them roles that fit them best. For example, one member of your sales team might have strengths in problem solving and conveying instructions, therefore they might suit a supervisor role more than a sales role.
Attitude
Above all qualities, skill sets and levels of knowledge, your exhibition stand staff need to have the correct attitude towards attending the expo. Select staff that truly want to be at your stand, promoting and selling your brand. Both enthusiasm and apathy show in your body language, so it's important to ensure your staff are sending the correct message. Attendees will be able to tell if your staff don't want to be there and this will deter them from approaching your stand.
Approachable and friendly
The design and attractiveness of your stand is not the only element that will draw attendees to your stand, your staff will also need to invite people. Choose staff that are easily approachable and friendly in their manner. Your staff will be representing your brand, so ensure that they can do this correctly and attract visitors to your stand.
Product training
Your staff needs to be confident in their knowledge of your products, services and company when working at your exhibition stand. Attendee's will be asking lots of questions about what your company has to offer, so train your staff to be able to answer these confidently.
Sales skills
Exhibiting is a great opportunity to sell products and services to your target market. To do this, you need a team of staff that can use their communication skills to create leads and close sales. Your staff will need to know the right way to approach sales and generate maximum ROI for your business.
Team players
Staffing an exhibition stand is all about teamwork. Each staff member should be working towards a common goal as a team player. You should also have a mixture of skills within your team so that they can cooperate to achieve the best results. Sellers are important, but you can also have manufacturing staff to speak about products, marketing specialists, or designers.
Budget
Don't forget to keep your budget in mind when selecting your staff. Carefully consider the amount of staff you will need and which role they will take on. If you have a small stand then you may only need two staff members, but if you have a large stand you may need up to six. Your team will be the most effective asset of your expo stand, but they can be expensive. You will need to cover the cost of transport to and from the event, accommodation for your staff to stay nearby the event and any food expenses.
How to train your staff
Plan early
The key to having a well-trained staff is to get started early. Your team won't be ready if you only start training the day before the expo. You will need to choose your staff and begin any required training roughly 3 months before the event.
Set team goals
You want your staff to work together as a team, so clearly outline shared goals they can work towards. These goals should be attainable and measurable. These goals will help you identify any specific training you need for your staff. For example, if your main goal is to create maximum ROI, then you will need to organise sales training for your team.
Role playing
Role playing is a great form of training that will help your staff prepare for different situations that may arise as they work at the exhibition stand. Rather than your staff sitting through hours of presentations, they can learn and practice their skills by acting out certain scenarios. This is an opportunity for you to see whether your staff responds well to customer queries or complaints and arrange further training in specific areas if required.
Focus on goals
Train your staff to engage in behaviour that achieves your exhibiting goals. By focusing their efforts on what your company hopes to achieve from the event, your staff will work more proactively rather than chatting amongst themselves or displaying poor body language.
Sales process
Whether or not your staff are well-trained in sales, you should prepare a sales process that they can follow. Follow the 7-step sale process of prospecting, preparation, approach, presentation, handling objections, closing and follow-up. This will help your staff close deals with confidence and recognise when to disengage if an attendee is not responding to their efforts. Check out this article on LucidChart to learn more about how you can develop an effective sales process for your team to follow.
Investing time in selecting and training your staff will increase your chances of achieving your exhibition goals and increasing your ROI. If you're ready to start planning your exhibition stand and staff, let us help you by handling all the fuss. Contact us at letschat@events720.com or complete the form below and we'll be in touch.