Exhibition Stand Flooring: Different Types and Inspiration
by Events 720, on 25/07/19 12:15 PM
When planning the perfect exhibition stand for your company, every component is important; especially the flooring. Whether you have a custom stand space or a shell scheme stand, using the right flooring can help you attract attention and increase your foot traffic.
There are a range of different flooring types you can use for your exhibition stand. Your choice will depend on any functionality requirements, your budget, and the style of your stand.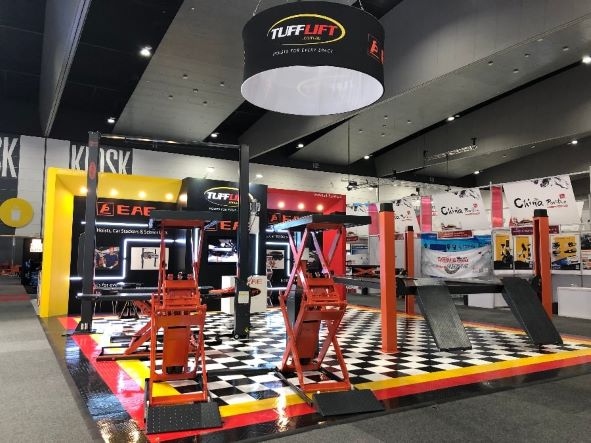 The first decision to make is whether you require raised flooring or carpet.
Raised flooring allows you to add a bit extra to your stand, by giving it a sense of scale that carpet flooring can't provide. It defines your space and can make visitors feel like they're entering an exclusive zone
Raised flooring is best to use if you require three-phase power, a large capacity of power or water supply to your exhibition stand. It gives you a place to conceal your power and data cables to keep your area looking neat and avoid any tripping hazards. Raised flooring should be combined with a ramp edge to create a seamless transition from the floor and to, again, ensure attendees don't trip.
Carpet tiles are the most common flooring type used at trade shows. It comes in a large range of materials that are both sturdy and stylish. Most flooring types can be fully customised with colours and designs to attract attention and suit the theme of your space.
It's important to consider what function your flooring serves. If you require heavy items to be displayed on your stand then you may need to use carpet rather than raised flooring for appropriate support. High traffic areas may require special consideration as they will need to stand up a lot of wear over a short period of time. Also think about cleaning the flooring. You don't want flooring that needs to be vacuumed or swept frequently.
Your budget will also need to be taken into consideration. There are different types of materials that flooring can come in to suit any budget. Raised flooring is often more expensive than carpet. However, carpet and vinyl may even come close to breaking a large budget, so make sure your exhibition stand designer has an idea of your budget so they can choose an affordable flooring option.
Floor coverings are also a great option for making a personal statement, instead of using a standard floor. You can also design your own pattern to customise your space, from simple checker-board squares to swirl effect. Take it a step further and have custom made printed graphics incorporated into your flooring.
If you need some inspiration for flooring, we've provided some great examples below.
1. Incorporate bold colours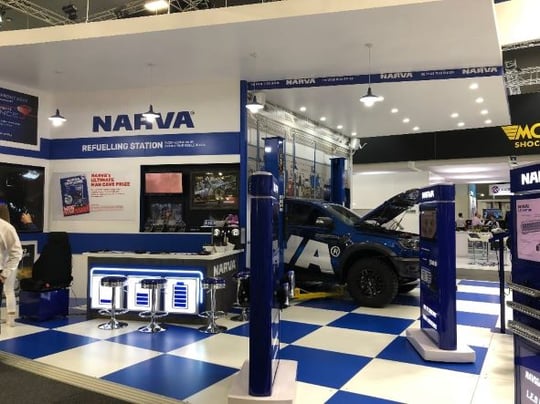 If you want to incorporate unique flooring into your stand, it should be done in a way that compliments the space. Using a checker-board pattern is a great way to add colour into your flooring without it being overpowering.
This exhibition stand for Narva Australia, designed and built by our team at Events 720, used raised flooring with a checker-board theme to incorporate their signature navy blue. Not only does it suit the branding, but it also adds an eye-catching element to the stand that will attract attendees.
2. Customise your flooring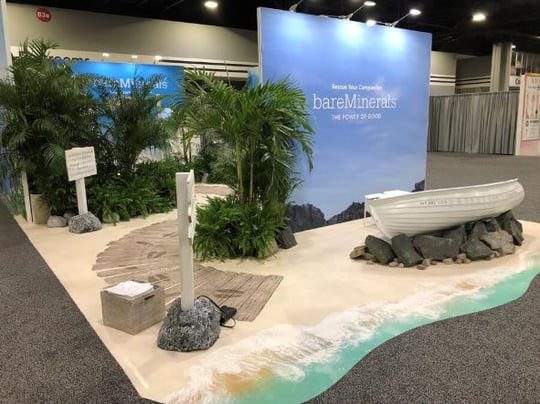 Image credit: Exhibit Experience
Invest in flooring that is truly unique to your stand with custom printed graphics. This allows you to have any pattern, image or logo printed onto your flooring, which gives you more opportunity for signage and to stand out amongst competitors.
This stand by Exhibit Experience used flooring from Brumark Flooring suiting the theme of the stand to create an authentic and eye-catching space. The same effect wouldn't have been achieved with simple white flooring.
3. Use different materials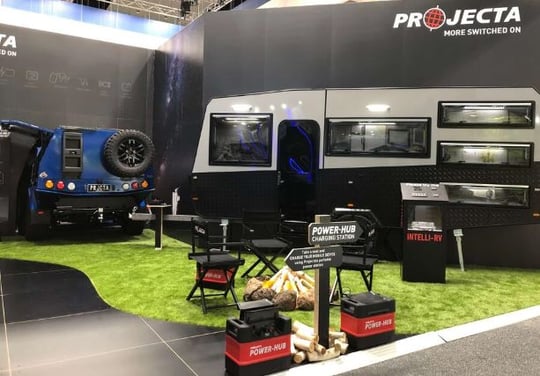 Your flooring doesn't have to be vinyl or carpet – there are a range of materials you can use instead, depending on your preference and the design of your exhibition stand. You can add different elements to your flooring to contribute to the overall theme and style of your space, whether you use this material throughout the whole stand or only in sections.
This stand we created and built for Projects Australia used artificial grass to suit the outdoor camping theme of the stand. We then used simple tiling for the remainder of the stand to compliment the grass and make it stand out.
4. Natural tones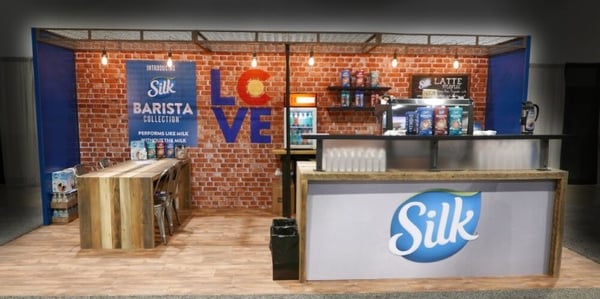 Image credit: Condit
Using different textures and materials for your flooring can help create a great stand for your business. Opting for neutral timber tones adds a unique element to your stand without overpowering the space. Natural materials are being used more commonly in exhibition stands to create a more authentic and sustainable feel. The materials project a unique authenticity that can be very eye-catching. This stand by Condit used a light toned timber flooring to compliment components of their design.
As you can see, there's more to flooring than simple tiles or carpet. It's often a component that's often overlooked but can help transform your stand into a show-stopping space. If you have questions or would like more information on the types of flooring available, you can contact us at letschat@events720.com or follow the 'Contact Us' below.