Exhibition Stand Design Inspiration at Exhibitor Live 2019
by Kyrah Howell, on 6/03/19 12:15 PM
Exhibitor Live, the Professional Development Conference for Trade Show and Corporate Event Marketing, kicked off on February 24 for its annual five-day expo showcasing an enormous range of exhibitors and interactive workshops.
There was certainly no shortage of creativity and design at this year's event. With over 300 exhibitors attending with exhibitions stands of all shapes and sizes, each stand had something unique to offer.
Exhibitor Live's Best of Show Awards honour the top exhibition stands and executions. Today, we're feeling very inspired by the winners of each four categories. Check them out below.
Best New Exhibitor Award: Alexis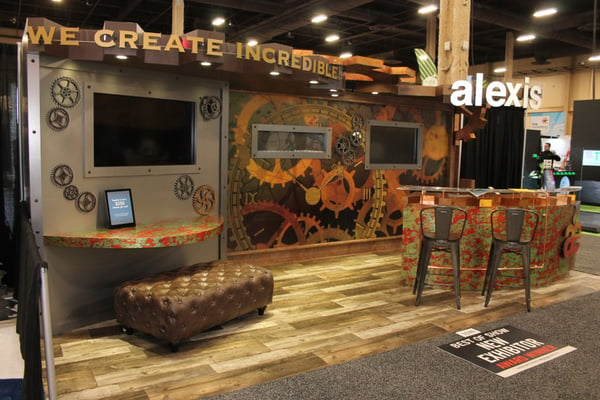 Image credit: Exhibitor Online
The best stands are both eye-catching and inviting. Often bold graphics and designs can become overwhelming for attendees. This stand for Alexis captures the attention of attendees AND creates a welcoming atmosphere. The graphics and consistent theme emphasise the brand and showcase their services. The layout of the chairs and chaise create a space for engagement and relaxation. The use of their tag line, 'We create incredible', strengthens their brand presence and reinforces their messaging. When developing the design of your next exhibition stand, stick to the theme of your brand in your design and showcase your unique selling point with a strong slogan.
Best Small Booth Award: Elevation3D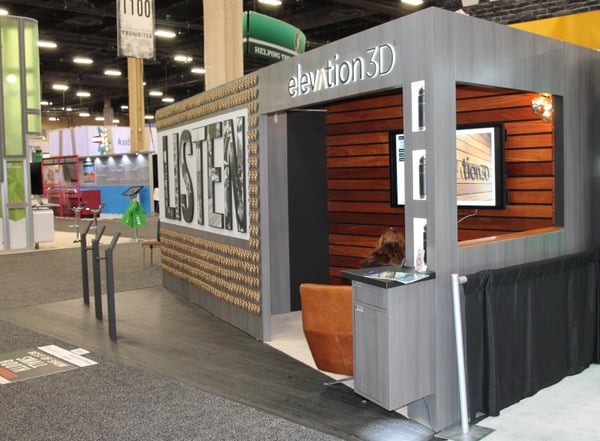 Image credit: Exhibitor Online
This stand from Elevation3D proves that smaller displays can still have that WOW factor to shine at an expo. The natural materials used in the backdrop capture the attention of attendees passing by and invite them to the stand. Once the attendees were drawn in by the detailed design, they were able to engage with the stand using its components of interactive technology. Introducing interactive elements to your stand is a great way to create memorable moments with attendees and communicate your purpose with your target audience.
Best Large Booth Award: beMatrix

Image credit: Exhibitor Online
What a great design! This stand by beMatrix uses a creative and compelling arch across the expo aisle to connect their two exhibition stands. This enhances their brand presence and increases their visibility throughout the venue. The use of colours makes their stand eye-catching and engaging, but still reflects their branding. The two stands are very different in floor designs, but the use of the arch connects the two concepts and the products they offer.
Best Booth Staff Award: GES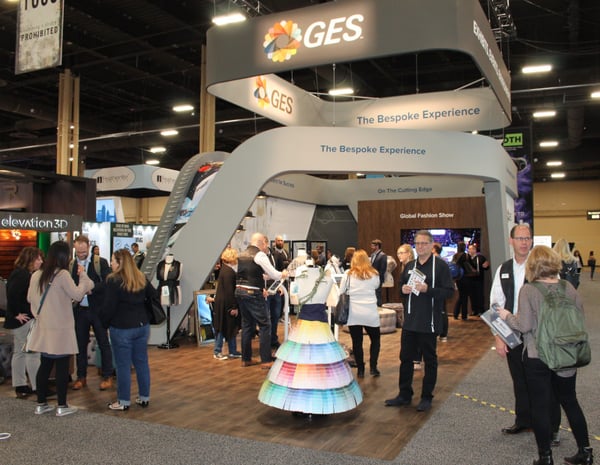 Image credit: Exhibitor Online
Exhibitor success doesn't always rely on the exhibition design – well-trained and knowledgeable staff can be the star of the exhibition stand and help attract maximum visitors. The staff at the GES stand used eye contact, a friendly welcome and body language to invite attendees in. The design of the stand is intriguing and easily visible, but it was the communication skills demonstrated by the staff that left attendees feeling engaged and interested in GES.
We hope you find these exhibition stands as inspiring as we do. As custom exhibition stand builders, we love keeping up to date with the latest trends in exhibition designs to ensure we can create stands that are bold, practical and help you achieve your expo goals.
Make sure to keep your eyes out for Exhibitor Live 2020.