6 Common Exhibition Stand Mistakes and How to Avoid Them
by Kyrah Howell, on 5/03/19 12:15 PM
When planning a show-stopping exhibition stand there's a lot that can go wrong. It's easy to forget tasks, slip up and make mistakes. The good news is that, with the right knowledge, preparation and support, mistakes can be avoidable. We're here to walk you through how you can avoid common mistakes and make your expo a success.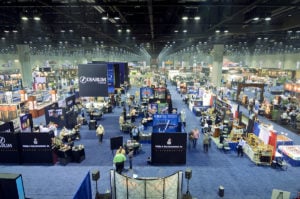 Photo credit: Richard Laible
1. Going to the wrong event
Exhibiting at the wrong expo will mean you risk presenting your brand to an audience who may not be interested in your products or services due to the different values they hold, compared to your ideal target market. This can impact your exhibition experience as it will limit the number of attendees you are able to engage with at your stand.
How you can avoid this mistake:
Before choosing which expo to exhibit at, research the demographics of people who attend. This will help you gain insight into the audience that the event engages with. Think about whether their values and attitudes can align with your brand, and whether they will resonate with the products or services you are presenting to them. For example, if your product is a new protein bar then attending a farming expo won't provide you with the correct audience. However, if your protein bar is marketed towards farmers who need a quick, energising snack at work, then it might just be perfect!
2. Not having clear expo goals
Not having a clear outline of what you hope to achieve can make the process of deciding where, when or how to exhibit quite difficult. Your expo goals will help you determine everything from the design and location of your stand, to your marketing plan and sales approach. Without knowing what you want to achieve you risk having unclear creative ideas that a designer may struggle to interpret; therefore, your design won't reflect your brand and provide the results you desire. For example, having a goal to obtain leads will require seating areas and private meeting points to encourage discussions with prospects. However, if you aren't clear on this being your goal then you might not include this in your design.
How you can avoid this mistake:
Before deciding where or what to exhibit, spend time defining why you want to exhibit and what you hope to achieve. Analyse your sales, marketing and reputation to find areas for improvement or enhancement. Start outlining your goals 12 months before exhibiting and make sure your team are aware of these.
3. Missing the design mark
Having an eye-catching exhibition stand is one of the most important parts of exhibiting. If your stand can't capture the attention of attendees then you lose opportunities to interact, gather leads or generate sales. Your stand needs to be highly visible, approachable, practical and suited to your brand. The overall quality and design of your stand can be impacted by a low budget, disorganisation, misinterpretation from the designer or time restrictions.
How you can avoid this mistake:
You can still have a great stand on a low budget by allocating your money where it matters most. Choose a smaller stand with high quality graphics, furniture, LCD screens and bright lighting to create an eye-catching space, rather than a larger stand with a boring look and feel. Contact your designer 4-6 weeks before the expo with a detailed design brief to ensure that you and well-organised and your designer is informed about what you need.
4. Not engaging with visitors to gather leads
Expos are the perfect opportunity to gather contacts for future sales and business opportunities. You may not be gathering leads because your method of approach isn't suitable for the demographic, or maybe you don't have a method of approach. If you are unable to obtain contact information from attendees, then the purpose of exhibiting can become lost.
How you can avoid this mistake:
Be proactive! Engage with attendees, educate them on your brand, share your company vision and ask them about their own. Exchange business cards and contact details of those who visit your stand. Avoid speaking to the same prospect for too long, you can easily follow up with them at a later date. Alternatively, keep tray or glass bowl for people to leave their business cards. Don't forget to follow up on these leads by allocating and training members of your team to engage with them. Following up on your contacts can provide exciting opportunities that you don't want to miss out on.
5. Not having a marketing plan
Creating a marketing plan and implementing tactics is essential for promoting your brand and your attendance at the expo. No matter what your identified goal is, marketing can help you achieve it. Without marketing you risk your target audience not knowing about your exhibition stand and gaining enough interest on the day of the expo. This will impact your ability to gather leads and communicate with your target audience.
How you can avoid this mistake:
Invest time in developing a marketing plan that reflects your goals. Research marketing tactics that have been successful for similar business and how they might work for your exhibition. Marketing doesn't have to be difficult or daunting. Start simple by sending out emails to existing customers, write blog posts, or post on Instagram. These will help you gain a following and share your exhibition with a loyal audience.
5. Poor stand placement
Having a poorly located exhibitions stand at an expo can affect your ability to attract visitors, communicate with your audience and obtain leads. Often, the stands towards the far back or sides of a venue receive a lower rate of foot traffic; therefore, depending on your goals, this won't be an ideal placement for your stand.
How you can avoid this mistake:
Get in early! Organisers will often sell space to their expo a year in advance. They will also sell space at their own expo for the following year's event, so it's a great idea to attend this expo and snap up the best location. Work towards building a positive relationship with the organisers to increase your chance of receiving any early offers. If you're too late and end up with a poor location, you can still have a great experience by making your display stand-out using bright graphics, visible signage and promoting it on social media.
As you can see, there are many common mistakes that exhibitors make when planning their exhibition stand. Whether you're a first-time exhibitor or an experienced exhibitor, you will make mistakes and come across challenges. Just remember, that each obstacle can be overcome, and you can still have a worthwhile exhibitor experience.
At Events 720, we strive to make your exhibitor experience as easy as possible by being anticipating problems and avoiding them. Speak to us about handling your next exhibition stand at letschat@events720.com .