Create an ideal public activation - Use placemaking to your advantage!
by Karoline Fagan, on 23/11/21 1:51 PM
Placemaking is a process of discovering what your community wants and needs and building on that to improve the local public space. It's using the communities existing assets, for example, a standout location or attraction, or existing nearby facilities that can be incorporated or utilised to benefit the space you wish to create, all while using relevant themes to lift the area and create a space that people will want to visit and spend their time.
Creating the ideal public activation for your community, comes with multiple levels of thought. While the most obvious is the aesthetic finish of the placemaking activation, the functionality and purpose of the space is possibly the most important. Of course, the visual finish of the placemaking area needs to be eye-catching as this is what is going to first draw people's interest but having a function that fits with the local demographic is what is going to bring long-term success to the project.
Community engagement is a key focus when it comes to placemaking on a public level. A great way to get the local community on board is to find and recruit local businesses, artists, designers, builders, and other creative talents to be involved in the design, decision making, and construction of the activation. Doing this helps to encourage local pride and builds an authentic connection to the space you've created all while boosting the local economy.
Placemaking activations should be inclusive, accessible, and relatable to the community you want to appeal to. You want to attract people to enjoy the space, which will happen if its accessible for them to do so and offer something of interest or interaction to keep them there. A well-planned placemaking activation gives you the opportunity to highlight hidden gems in your community, and bring attention to areas that have potential, but are not currently being utilised effectively.
The below space was an open, empty area, and is surrounded by multiple small retail stores and an independent supermarket. The local demographic has a median age of mid 30s, many of which make up young families. The idea was to create a placemaking space to benefit the children and families in the area, hence the brightly coloured structures, which can be used to climb and jump on by the kids, and also a place for parents and carers to sit and relax while their children enjoy the cubbyhouse. The activation has brought a pop of colour to the location, and also offers an interactive activity for the community. The aim is to attract the local demographic to use the nearby retail and grocery store, boosting the local spirit and economy.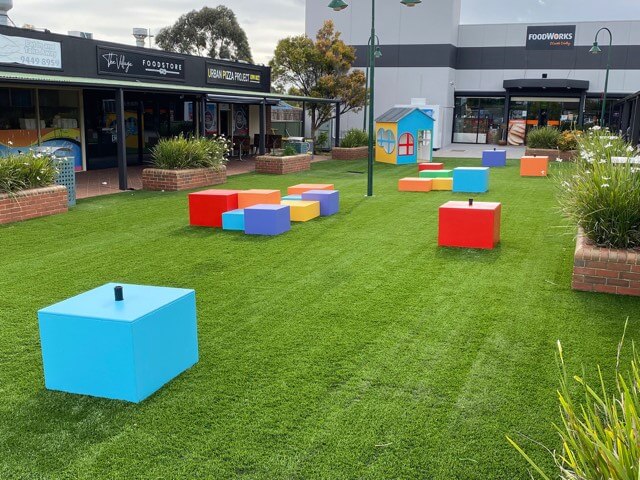 Transforming this space has converted an under used area, into an interesting space which will attract visitors and be a place for people to enjoy.
With so much support available at the moment from the state government, it's a no brainer when it comes to taking advantage of the funding on offer and boost the community spirit in your area. We can help you plan, design and execute a placemaking activation for your council area, and bring some much needed interaction, after what has been a very socially-distanced couple of years!