COVIDSafe Outdoor Activation Fund 2021
by Karoline Fagan, on 26/11/21 1:56 PM
As part of a Victorian Government initiative, Councils will be able to receive a share of $19.5 million to establish semi-permanent and permanent outdoor precincts and support a wider range of businesses and industries to put infrastructure in place so that the community can enjoy outdoor spaces this summer and beyond.
This is Part B of the $40 million COVIDSafe Outdoor Activation Fund which has been established to support industries impacted by COVID restrictions.
This funding will allow for outdoor eating and entertainment facilities and other businesses to operate outdoors and is intended to support a broad range of industries and alleviate the cost of activating these outdoor spaces. Councils will be eligible for funding for structures related to the establishment of semi-permanent and permanent new outdoor precincts such a parklet facilities, planter boxes, street furniture and other minor works to establish outdoor spaces.
The options are abundant when it comes to establishing outdoor spaces for local businesses and the community.
Placemaking
Placemaking precincts and pop-up parks are a great way to provide the local community members a place to enjoy and sit while they have a coffee or some food from the local hospitality businesses.
With placemaking being a completely customisable project, we consider all aspects when designing every placemaking design. We will work with you on creating the right interactive space for your area as well as considering your goal for the use of the desired space. The possibilities are endless!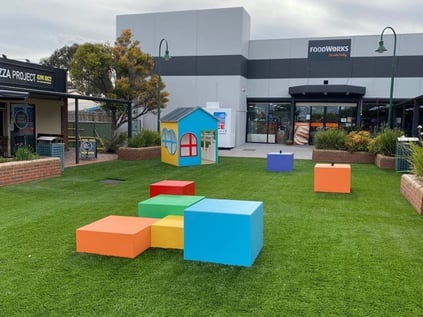 Parklet Facilities
A parklet can be installed within the car spaces in front of your business or on the footpath area, depending on each local council requirements. A parklet is a great solution for those wanting to expand on existing, or without any onsite outdoor dining areas like courtyards, balconies, or beer gardens. The opportunities really are endless when it come to a custom parklet, and while it does take some thought and planning, the benefits to local buissnesses that come with installing a parklet are well worth it.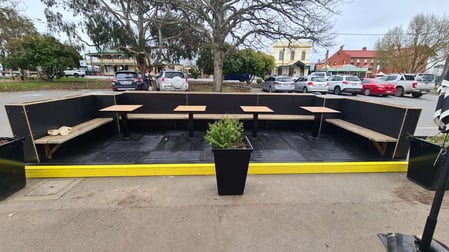 Planter Boxes
Planter box fence sections are a great way to add character and greenery to your outdoor precinct. They create a sectioned space, and give an enclosed but welcoming area to sit, relax, and enjoy the outdoors experience. They can be securely installed directly onto a concreted area, meaning they can be used practically anywhere to provide a fenced off area.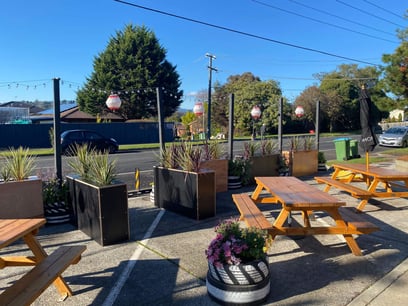 Picnic Tables and Street Furniture
Adding picnic tables to an outdoor space is a fast and functional way to increase seating capacity. They provide an inviting space to relax, eat and drink, and can be safely spaced so you can be sure to adhere to any required guidelines.
Bench seat planter boxes and fixed street furniture can be easily added to your placemaking precinct or parklet and customised to suit the space. They can also be installed as a feature of their own to provide seating for the customers of local businesses and members of the community.
What we can offer…
We offer a full turn-key service, with design, fabrication and installation all completed in-house with our dedicated staff. We assist with every aspect of a project and work with you to ensure that your placemaking project is completed to a high standard.
With many years' experience in delivering large-scale, custom projects for a variety of clients, we can work with you to provide the best advice on design, materials, and project management, all with respect to your ideas and budget.
Reach out to have your plans assessed and start creating your outdoor activation project with us before the end of 2021!