10 Ways to Enhance Your Exhibition Stand
by Events 720, on 13/06/19 12:40 PM
Your exhibition stand is so much more than a simple wooden structure. It's a space to communicate with your target audience, contributing to memorable experiences and building quality relationships.
Enhancing your stand is quite simple if you introduce some intriguing and engaging elements to your stand. We've prepared a list of things you can add or focus on that will help your exhibition stand attract an audience and achieve your goals.
1. Train your exhibition stand staff
At an expo, making a good impression is everything. The design and layout of your exhibition stand will give the first impression to attendees, but your staff will need to give a great second impression. To ensure they can achieve this, your staff need to be trained in their roles and knowledgeable of your company. This will allow them to confidently communicate with attendees about your products or services, and answer any queries they have. It will enhance your presence and allow attendees to leave your stand having memorable interactions with your brand. Your staff should also be friendly and welcoming, greeting people as they walk past and encourage them to approach your stand. Check out our blog post on how you can select and train your exhibition staff by clicking here.
2. Have a clear brand strategy
When planning your exhibition stand, think about what you want your visitors to see or take away from your stand. Focus on how you will represent your overall branding, from the colours and the text to any slogans or themes you want to use to further enhance your space. Having clear branding will help attendees identify your company and understand its purpose. A clear brand strategy will help you stay focused on your mission and vision for the expo.
3. Market your stand before the expo begins
Preparations to enhance your exhibition stand and space can begin before the expo even begins. Use marketing tactics to promote your participation at the expo to your audience to gain awareness and increase the amount of visitors you receive at your stand. You can use social media and email marketing to begin promoting your stand by sharing images and videos of the planning process behind your exhibition stand and details of the expo.
4. Add interactive elements to your stand
Including interactive elements on your stand is a great way to engage your target audience with your brand. A simple way to do this is by adding product demonstrations for your attendees to view and ask questions. You can schedule specific demonstration times or have them continuously during the day. You can also have a competition held on your exhibition stand or even introduce virtual reality for your attendees to interact with.
5. Use the right lighting
Using the correct lighting can be the difference between having a great stand and a bad one. Lighting that is off colour or dim can be deterring for attendees, while lighting that is bright and illuminates the space can enhance your stand and attract visitors. Backlighting is one of the biggest trends for expo stands. This is the technique of placing lights behind a fabric panel or inside signage or frames to light them up. LED Stem Lights are also popular to have on a stand.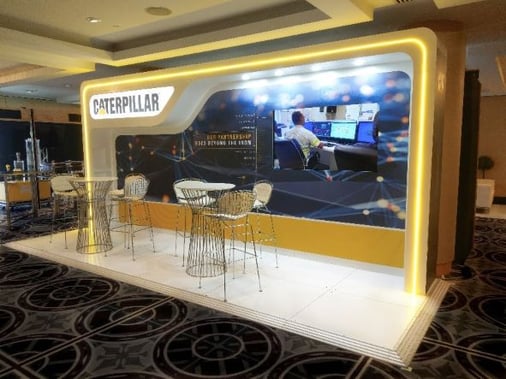 6. Offer something unique
Offer your visitors something different or unique to experience as this will assist with enhancing the value of your stand and attract for visitors. This involves giving attendees something that they can't receive at competitor stands, such as a charging station, a coffee cart, giveaways, gift bags, or guest speakers.
7. Create a relaxing space
Expos can be very long and tiresome for an attendee, so make your stand a place for them to relax and recharge. Adding furniture, such as sofas and chairs, to your stand creates a comfortable environment that attendees will be drawn to as their busy day drags on. This will also give you opportunities to speak to potential prospects while they are seated at your stand.
8. Choose a unique design
As mentioned before, first impressions are important. Therefore, your stand should be unique and eye-catching. Choose a stand builder that can create a stand that reflects your values and your budget, while still having that 'wow' factor. Don't settle on simple or generic designs that use the same layout. Your designer will be able to create a design that is different from your competitors and helps you stand out. If you're ready to stand out then let us help you create the ultimate stand design.
9. Add technology to your stand
Technology is a great way to add an intriguing element to your stand and make it unique. You can add a video wall by using multiple TV's. These are eye-catching and allow you to tell your company story in an engaging video. You can also have a live video streamed on social media at your stand. Videos are a great idea as attendees may often have short attention spans after hearing from many different sales representatives all day, therefore videos are a simple way to regain their attention in a fast and entertaining way. Virtual reality or augmented reality are also great uses of technology to engage your audience and enhance your exhibition stand.
10. Wear branded uniform
This is a small addition you can include that has the power to make a huge difference to your exhibition stand. A branded uniform creates a signature look and a sense of professionalism amongst your stand staff. It also assists attendees with identifying your team so they know who to speak to about any queries.
Hopefully now you can see that enhancing your exhibition stand isn't difficult and doesn't need to break the budget, there are some simple methods you can follow to upgrade your space and achieve your goals. If you would like more information on exhibition stands, from planning a design or preparing a budget, contact us at letschat@events720.com or follow the link below to 'Contact Us'.