Why Your Exhibition Supplier MUST Care About Your Exhibitors
by Chloe Mortimer, on 30/07/18 3:09 PM
Choosing an exhibition supplier can seem like a long process. You need to find a range of suppliers, give them all a brief and then try to understand the subtle differences between them in order to choose the best supplier for your exhibition. It can seem easy to just reduce the number of proposals from prospective suppliers, but you limit your chances of finding a great exhibition supplier to partner with. There are some things you should really question when speaking to a prospective supplier, and the core reason for needing a new supplier is to find someone who will care about your exhibitors.
When exhibition suppliers care about your exhibitors your exhibition will run smoothly, and the satisfaction of your exhibitors will be give priority. We've detailed 4 ways that you can assess the extent that your supplier cares about your exhibitors.
Offer great customer service
Offering great customer service should be a no-brainer. Everyone wants great customer service these days. Your exhibitors want to deal with a supplier who makes things easy for them and cares about how the exhibition will look and run. Offering great customer service means that your supplier takes great steps to ensure that your exhibitors aren't left behind. Exhibitors are busy, often juggling their regular role and needing to organise their stand at your exhibition. They need an easy-to-use system, they need a supplier who will help guide them through the process if they are exhibiting for first time, and they need a supplier who will care about their needs. If the feedback from your exhibitors is that your contracted supplier isn't helpful or caring, you should consider finding a new supplier.
Convoluted ordering practises don't make things easier for your exhibitors. Your exhibitors will become confused and may miss deadlines for orders, and that is stressful. Offering great customer service means that your supplier has spent time (and often money) to create an easy-to-use system to order anything that the exhibitors may need for the stand. There are always last-minute orders and issues that are out of the exhibitor and the supplier's control, but the way that these issues are handled will really matter for your exhibitors. They don't want to be blamed or face embarrassment, they want a supplier who will fix the issues quickly and help them feel secure in an unfamiliar environment.
Increased exhibitor satisfaction
With each show, you should aim to increase the satisfaction of your exhibitors. That doesn't mean that you must go above and beyond each and every exhibition (although you should always try and grow your exhibition in new ways), but it does mean that you should be aiming to organise the exhibition in a way that keeps your exhibitors happy. Focus on enhancing the positive aspects of your exhibition and improving the parts that aren't so good as an important aspect of running an exhibition.
Your exhibitors will expect an exhibition that is well-run, with considerable thought put into how the exhibition will work and what is on offer for exhibitors and visitors. As the old adage goes, failing to plan is planning to fail! If you plan your exhibition well with your contracted supplier, your exhibitors will be satisfied with service that they receive. Reaching out to run your ideas by your supplier doesn't diminish the way that you run your exhibition, but it does open the door to have a meaningful discussion with your supplier about the organisation of the expo. This can lead to an exchange in ideas, ensuring that you are running the exhibition the best way possible for your exhibitors.
If you contracted supplier is not open to discussing your exhibitor's satisfaction and ways to increase this, they may not care that much about your exhibitors. Remember that your exhibitors are the lifeblood of your exhibition, without them you don't have an expo. If you're not sure how to continually increase your exhibitor's satisfaction, it may be worth looking at planning an overhaul of your exhibition strategy to gain some perspective on the best ways to achieve this.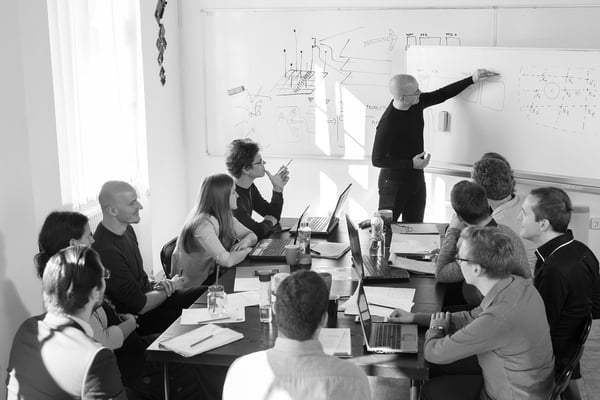 Pride in their product offerings
When exhibition suppliers create products, a lot of time goes into preparing, designing and manufacturing. When you find an exhibition supplier who really cares about your exhibitors, it shows in the products that they offer. Exhibition products must fill a need that exhibitors have. When suppliers create products that really fulfil the needs of your exhibitors they will have great pride in their product offerings. There are times this will mean finding custom solutions for exhibitors at the request of an organiser, other times there will be innovative products that have arisen from exhibitor needs.
Your contracted supplier should be proud of the products that they're offering your exhibitors. If the products seem battered and shabby quality, it's likely that your supplier is not looking after your exhibitors. Poor quality products shows that the supplier doesn't care about your exhibitors appearance to any visitors, thus not caring about the exhibitors. An exhibition provides the opportunity for everyone to achieve their goals. You want your exhibitors to meet their sales goals by selling to the attendees, and you want to meet your goals of selling exhibitor floor space. A good exhibition supplier will want to foster these goals and organisers and exhibitors alike achieve their exhibition goals.
Creates a long-lasting partnership
It shouldn't matter if you organise one exhibition a year or 20, your exhibition supplier should want to create a long-lasting partnership with you. If you don't feel like your supplier is trying to create a long-lasting partnership, you should find another supplier. Creating a long-lasting partnership doesn't mean that one party always gives in to the other, or that there is avoidance of any conflict. It means that each party works towards a common goal, which should always be strengthening your exhibition. Each time that your supplier works with you on your exhibition they should be trying to help you achieve the best for your exhibition and your exhibitors. That's what you deserve for the money that you pay for your supplier's service. You deserve a supplier who wants to create a long-term relationship with you and your exhibitors.
You deserve a supplier that cares about your exhibitors.