The Magic to Keeping Exhibitors Happy
by Kyrah Howell, on 24/01/19 12:18 PM
As trade and consumer show organisers, it's your responsibility to ensure your exhibitors are receiving a valuable experience by being well informed, prepared and encouraged. Keeping your exhibitors happy definitely isn't easy. After all, it's impossible to please everyone. But when exhibitors invest time and money into your expo, it should be your priority to improve their experience and build trust that you can deliver a great expo for their business.
The CEO of Amazon, Jeff Bezos, once said:
"We need to see our customers as invited guests to a party, and we are the hosts. It's our job every day to make every aspect of the customer experience a little better."
This is exactly what you need to do for your exhibitors. Just keep reading to find out how.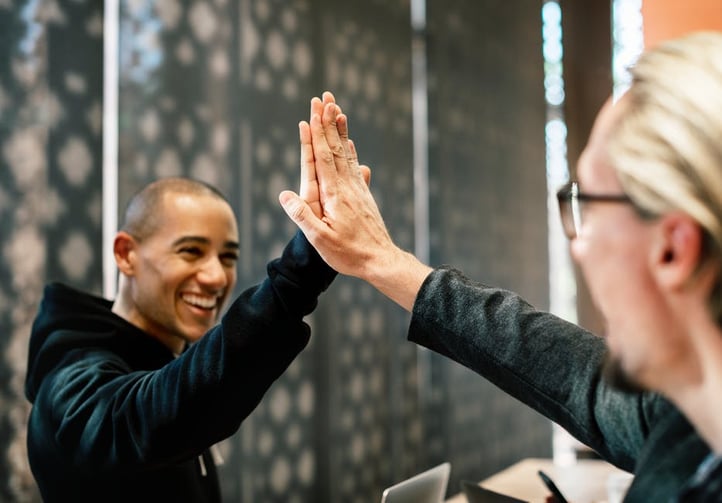 Understand your exhibitor
Exhibitors have high expectations for expos, especially those that have previous experience. To meet these expectations, you first need to identify exactly what their expectations are. You need to develop an understanding of their wants and needs so you can offer them an experience that will satisfy them. In the same way that exhibitors need to know their target audience to have a successful stand, organisers need to know theirs to have a successful expo. Making sure you and your exhibitors are on the same page can reassure them that your expo will help them achieve their goals.
Find out what works and what doesn't work
The best way to know how to please exhibitors is to find out what has pleased them in the past. If you have organised an expo before, gather feedback from the exhibitors to discover what worked well and what didn't. You can also research reviews online from past events and take inspiration from other expos. In the words of Bill Gates,
So, don't forget to do your homework!
Put thought into the location and time of your event
When choosing a venue for your event, choose it carefully. Make sure it has enough space for the number of exhibitors you are expecting. Don't force your exhibitors into a space that doesn't accommodate for them. You also need to ensure there is enough room for foot traffic to flow throughout the venue. Exhibitors will love as many opportunities to interact with attendees as they can so do your best to make this a possibility.
Be mindful of other popular events happening throughout the year and choose a suitable time for your expo. Exhibitors won't be happy if attendees don't come due to another expo on at the same time. Additionally, make the venue easy to locate. Don't host an expo at a venue two hours away from where the primary demographic of attendees are.
Provide briefing kits
A well-informed exhibitor is a happy exhibitor! Provide briefing kids to all exhibitors containing detailed information on floor plans, set up and pack down information, event schedule, hotel information, show service details, onsite contact information and anything else that might be of value. Communicate this information clearly and in the best way possible. Be concise and avoid overwhelming exhibitors with unnecessary information. Exhibitors will be happy if they don't have to follow you up for information. It's also great to suggest contacts for display suppliers as some companies may not have exhibited before, therefore they'll appreciate the assistance.
Remember DEADLINES
Don't forget those deadlines because there's a good chance your exhibitors might. Constantly remind them of upcoming deadlines that need to be met before the expo can run. This will help your exhibitors avoid extra costs or unplanned events, thus making them happy with your efforts to keep them organised.
Offer great value
Offer your exhibitors more than just a block of space. Include networking events or meals in the overall price so exhibitors feel they are receiving more value for their money.
Networking events are a great way to keep exhibitors happy with their experience at an expo. It's a chance for them to relax and interact with other exhibitors. This also presents you the opportunity to gather feedback on the expo and get to know the exhibitors. In the same way you hold a Christmas party to show that you appreciate your employees, networking events show your exhibitors you're happy they chose to attend your expo.
Be consistent with content and contacting
Don't leave your exhibitors alone to navigate the expo world – contact them regularly to share new information, give them tips, ensure they are prepared and build excitement for the big day. Offer exhibitors your expertise on the expo world. If you've organised an expo before or you've completed your research on them, then you will know what has been successful in the past. Talk to your exhibitors about this personally and discuss what you can do as a team to achieve their goals and eliminate any stress surrounding the day.
It can also help to keep your social media content and website up to date with useful information. This makes exhibitors happy as they can find the answers to their questions easily and quickly. But make sure you are still available through a phone call or email.
Attract attendees
Give the people what they want: more people! Throughout your expo planning you should be encouraging people to attend the event. Utilise content marketing tactics pre-expo to attract attention. You can do this through social media or a blog. You can also contact local newspapers, websites, event pages or Facebook groups to share your expo details. Exhibitors will be happy if the expo has a high attendance rate as this increases their opportunities for generating sales and building connections.
Encourage foot traffic throughout the main expo hall by avoiding scheduling workshops or guest speakers during popular times of the day. Exhibitors will love having a constant flow of people through and around their stand. If you do have activities to schedule during the day you can allocate them to quieter periods as a way of encouraging people to stay at your expo longer.
Whilst having a high attendance rate at your expo is great, having too many people can overcrowd the venue and create dissatisfaction amongst attendees and, subsequently, exhibitors. Make sure the exhibitors have enough space and people can move throughout the venue.
Reward loyal exhibitors
We often hear that it's better to nurture existing customers and encourage them to return than to attract new customers. You can put this into action and encourage exhibitors to return to your future expos. Offer them first choice of floor space or exclusive VIP experience.
Bonus tip: When possible, attend your show to ensure everything is running smoothly. Your exhibitors will appreciate your efforts to make sure they and the attendees are
Keeping exhibitors' happy sounds almost impossible. But in reality, it's quite simple if you stick to a process of informing, preparing and encouraging. Contact us on letschat@events720.com or click the 'Let's Chat' box below and we can give you more tips on how to be the best expo host and keep your exhibitors smiling.