The Best Budget for Your Exhibition Stand
by Chloe Mortimer, on 17/04/18 12:36 PM
A question that plagues every marketer and business owner – how much is too much when it comes to buying a custom exhibition stand?
The truth is, there is no right or wrong answer. Each business is so different and what works for one business won't always work for someone else. Most marketing budgets are individualised to that specific business. This answer is incredibly vague, and not at all helpful. So instead of focusing on finding an impossible answer for what your budget should look like, we want to discuss some parameters to remain within that will give you an idea of what your exhibition budget be.
Budget as a percentage of revenue
Commonly, marketing budgets are allocated as a matter of percentage of the business revenue. This is calculated from your projected revenue, or your actual revenue, depending on when you determine your marketing budgets during the year. Marketing ideology suggests that the value of your marketing budget should be based on the age of your business. If your business is less than 5 years old, a reasonable overall marketing budget is between 12-20% of your revenue. This helps establish a brand and a loyal customer base. If your business is older than 5 years, your marketing budget should be between 5-12% of your business revenue. This math is worked out with the assumption that as your business grows, the revenue of your business is increasing each year and you will have a considerable amount of money to spend generating new business. Following these budgeting recommendations, you will be able to allocate the right amount of money for your marketing efforts to ensure successful marketing measures. These figures are what you should allow for your entire marketing efforts. This means that the figure you allocate or are allocated for marketing must include all marketing options, your social media marketing, your paid advertising and your exhibition marketing. Initially, this might mean that you don't have a lot of money to exhibit with, however there are still great affordable options for a small exhibition marketing budget.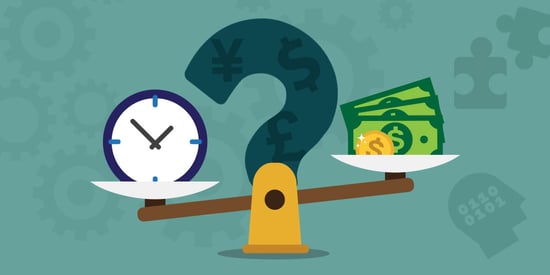 Calculating an ROI for the exhibiting experience
The return you want your exhibition stand to produce needs to be dictated by your goals. Different exhibiting goals will generate different results and these need to be considered. If you are selling products on your stand, then you want to measure the result of how many sales you make, how many units you sell, how many customers you sell to or the value of the average sale amount.
If the purpose of your exhibition attendance is to generate leads you will have different goals and achieve different results. Your ROI metrics will examine the lead volume, lead quality, lead conversion rate and closed business. These results may take longer to eventuate into results, but these metrics will help you monitor their progress along the way.
An ideal ratio to work towards in general marketing terms is 5:1. For every dollar that you invest into marketing efforts, you want to have a $5 return. This can be a tricky target to aim for in exhibition sales because of all the associated costs that accompany exhibitions, and because a lot of the ground work to ensure a successful exhibition marketing campaign must be achieved prior to the exhibition. It is very different from other marketing campaigns where you can pause a campaign halfway through and make changes to the campaign. An ideal ratio to aim for in exhibition sales is 3:1. This allows for exhibition marketing to be a successful marketing medium, like. For every $1 you spend on your exhibition attendance, you want to make $3. Why is the ROI important when determining an exhibition marketing budget? As highlighted above, your ROI goals will dictate how your stand needs to function, and this can have consequences for your budget. If you are planning to exhibit products, and your ROI goals are based on how many units you sell then your stand needs storage and a counter to optimally function and provide the ROI you need to justify exhibiting. If your exhibition goal is to generate leads you need to consider whether you need furniture that allows prospects to sit while you discuss your business services with them. Each of these different functions can have different costs for your custom exhibition stand, that need to be factored into the exhibiting budget you create.
What portion of a marketing budget should be allocated to an exhibition stand?
Now we've calculated what your overall marketing budget should be, and the functional requirements of the stand based on your goals, we need to calculate what percentage of that marketing budget should be appropriated to an exhibition stand. The answer is that it depends on what you want to achieve from exhibiting. It's important to understand what your goals are from exhibiting, and this will help determine what the appropriate exhibition stand budget will be. If your business goal is to achieve $200,000 from exhibition sales, then following our method above to determining a good ROI, you need to invest $35,000 on a custom exhibition stand and allow an extra $20,000 for miscellaneous costs associated with the exhibition stand. This would be things like travel, accommodation, meal allowances for exhibition staff etc. Spending $55,000 on exhibition marketing can seem like an insurmountable amount of money to smaller businesses, where the overall marketing budget might only be $55,000 to cover all the marketing for the whole year. In those situations, you would allocate money, but it still needs to be based off a realistic ROI. If you wanted to work backward and assign your exhibition marketing budget before calculating your ROI, you should be aware that exhibition sales won't look as high in the above example.
If you were a business that has only been operating for 2 years and is turning over $600,000 annually and allocating $60,000 in marketing money, then a realistic exhibition marketing budget might be $15,000. That can still buy you a nice custom exhibition stand if you can work within the right design. And based off a minimum ROI, you should aim to make $45,000 in exhibition sales. That gives you a ROI ratio of 3:1. As your revenue increases, and your brand becomes more well known you continually add to your exhibition marketing budget, just like you would a standard marketing budget.
What is our recommendation?
We recommend focusing on your per square meter (sqm) rate for an exhibition stand. In the above example of a small business with an exhibition stand budget of $15,000, going for a smaller exhibition floor space gives you a much better budget per sqm. If you purchased a 3x3m exhibition floor space, and your exhibition budget is $15,000 you then have around $1600 to spend per sqm. This is an ideal situation compared to if you purchased a 6x3m floor space, which means you can only spend $830 per sqm, and this difference means that you don't get as much for your money. Our recommendation is that you work in the order that we have outlined here, organise how much total exhibition marketing budget you have, and after you have this figure decide on your exhibition sales goals. Your goals will dictate the functional aspects of your exhibition stand and this is important when it comes to organising floor space. Your overall budget and the functional requirements of your exhibition stand will then indicate the ideal per sqm rate for your needs. If you want to have an exciting activation, or a custom designed storage area, a stand-out counter and amazing furniture, your per sqm budget needs to support these features.
Progressing in the future
Hopefully this provides a brief overview for how you should organise your exhibition marketing budget. The key to understanding how much money you should allocate to exhibiting is that the amount should change with your business needs. If you need to ramp up your exhibition sales, you should understand that the best way to do that is to increase your exhibition marketing budget. You may need to purchase a bigger exhibition floor space, upgrade your exhibition stand, or make your stand more functional so that it reflects your branding and sales purposes, and have more staff working on the exhibition stand to capture more leads. A marketing budget is never stagnant, it is forever changing with the needs of the business, and this is what needs to happen with your exhibition marketing budget. Your marketing budget will form part of your overall marketing campaign. You should measure the effectiveness of your budget and your campaign to ensure you receive the results you want. Here is a great article on Cleverism that you can follow to analyse your marketing plan -> https://www.cleverism.com/how-to-measure-effectiveness-of-marketing-campaigns/
Wondering where the expense lays in an exhibition stand?
Quite often, we design stands for exhibitors who have limited exhibiting experience. They are often shocked at the cost of an exhibition stand even though they didn't have a fixed budget in mind when they started the process of creating a stand. The reason for their shock could be due a variety of reasons, they could be a first time exhibitor, or they may have exhibited but used shell-scheme stands and they are upgrading to their own personalised stand, or they may believe that exhibiting shouldn't cost as much as it does. We have created a three page piece that explains why exhibiting can be so expensive, and how organising an exhibition stand yourself doesn't negate the costs. You can access this article here. Once you have finished each page click through to the next page using the buttons at the bottom of the page. Hopefully this article can help you understand the costs of exhibiting and creating an exhibition stand.
If you'd like to know more information, please don't hesitate to get in touch!
Do you have some tips on the best way to create a budget for your exhibition stand? We'd love to hear them! Let us know below in the comments.