Exhibition Planning: The Dos and the Don'ts
by Kyrah Howell, on 28/02/19 12:20 PM
For exhibition planners and organisers, expos offer unique opportunities to showcase your brand and build a community of exhibitors and buyers. If it's planned right, your expo can quickly become a memorable and valuable experience for everyone involved. We've put together a guide of dos and don'ts for exhibition planning to help you start planning your next expo.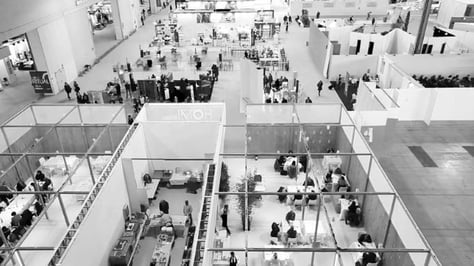 Photo credit: Shutterstock
DO:
Start planning early
Planning plays a huge role in the key to success and when you're organising an expo in which thousands of people will attend and hundreds of business will exhibit there's a lot to do! From finding a suitable venue to hiring cleaners, trade and consumer shows demand time management and organisation to tick everything off that 'to do' list. Your expo planning should begin between a year and 18 months before the event, depending on your experience. If you have hosted an expo in the same location before then you can start your planning later. However, it never hurts to be ahead of schedule.
Define your target audience
In your planning stage you need to define your target audience as this will assist you in future decisions, such as choosing a venue and deciding on a floor plan. Your target audience will dictate the location of your expo and the overall theme you promote. For example, if your target audience for your farming expo is regional farmers, then having a venue located in the CBD may not be suitable.
Organise networking opportunities
One of the most worthwhile elements of an expo is the chance to network with likeminded people and brands. Make sure you plan opportunities for your exhibitors to interact with one another. After a long day of speaking to prospects and closing sales deals, your exhibitors will appreciate the opportunity to relax and enjoy themselves. Consider also planning networking workshops for attendees at the expo as this will increase your attendance rate and keep attendees happy.
Plan marketing
Using marketing can help your expo become a success. Communicating with your target public using direct mail, infographics, email, and social media can assist in attracting attendees and building awareness. After all, people can't attend the event if they don't know it's happening.
Know what you want to achieve
Before you start planning your expo, outline what you hope to accomplish. This might be to generate sales, raise money for a charity, build brand awareness, network with businesses or showcase an industry. Having realistic and timely goals will assist you in making decisions when planning your expo. For example, if your goal is to build brand awareness then you might choose to have an large exhibitions stand at your expo to engage with attendees.
Attract media and sponsors
When implementing your marketing plan, don't forget to include the media. Send press releases and emails to media professionals who will be interested in writing about your event or attending on the day. This will further enhance your coverage, allowing your event to reach more people.
Sponsors are a very important part of an expo – you will rely on them to a degree to reach success. Research potential sponsors and contact them professionally. Make sure you choose sponsors that can relate to your event and present to them an opportunity. For example, if you have a large social media following then you can guarantee that your sponsors will reach a wide number of people. For more assistance on choosing sponsors, visit our blog post here.
Use your website and social media
Creating a website or landing page for your event provides your exhibitors and attendees a space to go to find information on the expo. Include everything from the date and location, to the floor plan and any bump-in requirements. Your exhibitors will require information on any networking opportunities, arrival times, guest speakers and even hotel information. Ensure that you host a great event by providing every detail your attendees and exhibitors will need.
Social media can be used as a form of digital marketing to help you promote your event both prior, during and after the event. Create a hashtag for the event that attendees can use to share their photos and view photos from other attendees. This enhances a sense of connection and allows you to promote your event to a broader audience.
DON'T:
Ignore your exhibitors
Don't leave your exhibitors to fend for themselves prior to and during the expo. Implement a plan to manage their queries and concerns. Ask your exhibitors for feedback prior to and after the expo. This will help you identify what is working well, what isn't and how you can improve.
Forget about your competitors
Don't forget to research other events that are similar or present a competition to yours. You can find out what worked well and what didn't by viewing exhibitor and attendee feedback and reviews in the media. You can access their previous floor plans and guest speaker line-up to gain an insight into what your event should or shouldn't include to ensure your exhibitors and attendees are receiving a worthwhile experience
Focus on sales
Don't just plan and execute your expo with money on your mind. An expo is more than generating profits, it's a way to create communities and connections. Your brand can benefit from hosting an event that exhibitors and attendees are happy with. Focusing on sales may lead you to overcrowd the venue and cut costs on important elements. Instead, focus on building a positive brand image and building your reputation for future events.
Rely on exhibitors to attract visitors
Don't avoid the responsibility of attracting visitors to your event. Exhibitors will promote their stand to their own audience to encourage attendance, but it's still up to you to ensure your event is highly promoted and people buy or register for tickets.
Overcrowd the venue with too many exhibitors
While you want to create profits by selling stands, avoid overcrowding your venue by having too many stands within the one space. Having too many or narrow aisles won't allow space for traffic flow.
Hide away on the day
Make sure you have a strong presence at your expo with a stand or counter. This will help you engage with visitors, sell exhibitor space for your next event, hand-out brochures and other important information, answer any queries and build relationships with exhibitors. It's likely that your staff will need to be roaming the event to ensure everything is running smoothly. In this case, equip everyone with a uniform to make your team easily recognisable and approachable.
At Events 720, we use our expertise and skills to handle all of your expo planning. Contact us at letschat@events720.com to get started on your exhibition.