Creative Exhibition Stand Ideas to Inspire You
by Events 720, on 25/04/19 12:20 PM
A creative exhibition stand will enhance your ability to attract expo attendees to your display and engage with them in order to achieve your goals. There are endless ways to be creative and stand out at an expo, you just need courage to be bold and eye-catching with your stand design.
An exhibition stand designer will be able to develop a design that you love, but it's always helpful to have some ideas of our own that your designer can work on. To help you feel inspired we've put together a list of stands that we love and believe hit the mark when it comes to show-stopping stands.
Keep it Simple
Rare Finds stand by Above Line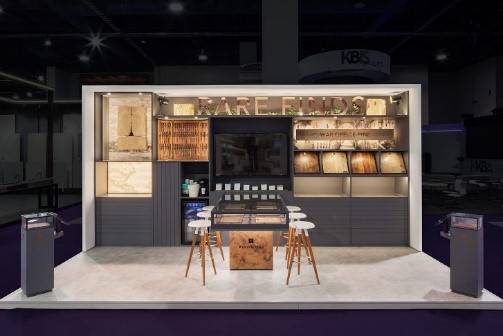 Image credit: Above Line
Although this design looks simple, the creativity lies in the seamless integration of the products and the meeting areas to form an inviting space. Often bright colours and bold graphics won't be suitable to your brand and it can be more effective to take a more neutral approach with the design to create welcoming space that showcases your brands purpose. This stand by Above Line uses neutral materials and tones to help Rare Finds products stand out.
Pfleiderer stand by Plajer & Franz Studio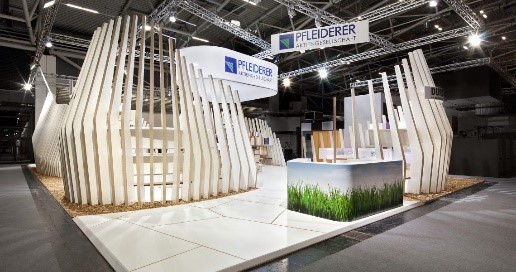 Image credit: Plajer & Franz Studio
To attract your target audience to your stand, try to be bold and unique with your design. From overhead signage to audacious flooring, this stand for Pfleiderer adds a unique spin on your typical exhibition stand. Instead of using walls to create private areas for meetings with prospects, the designers and builders at Plajer and Franz studio opted for eye-catching serial planes to create a wall effect while still maintaining an open and inviting space.
Lunawood stand by Bond Creative Agency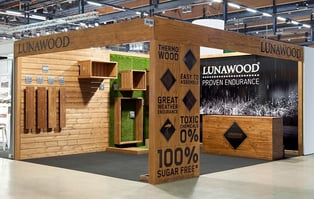 Image credit: Behance
Simplicity doesn't have to be boring. Different textures and materials can be paired together, alongside bold neutral tones, to create a great stand for your business. This stand by Bond Creative stays true to the purpose of the brand, Lunawood, by using raw wood materials that both compliment and showcase the products. This shows how a stand can be used to reflect the brand's messages and purpose.
Create a Theme
Ticketer stand by Expositionists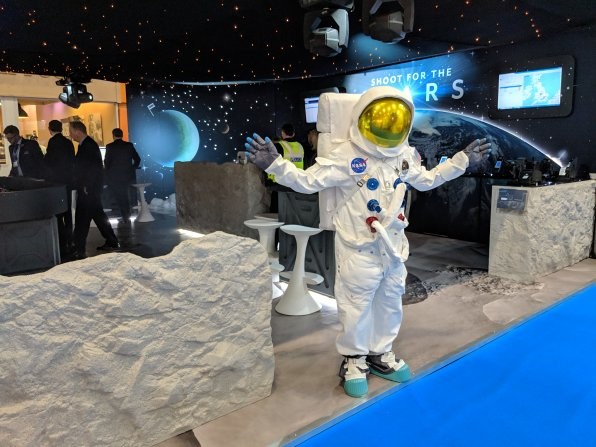 Image credit: Exhibitionists
Having product displays at your exhibition stand is one thing but bringing a brand's service to life is a whole new challenge that can have great results if achieved. Exhibition stand builders in the UK, The Exhibitionists, created this stand for a transport ticketing company, Ticketer. This is a great example of how you can showcase a service through a creative design that tells a unique story about the brand's purpose and goals. This stand played on Ticketer's tagline, 'A galaxy of public transport opportunities' with a space themed setting. Aside from being a clever way to attract attention, it's also an effective method for showcasing a service.
Schreder stand by Ion Exhibits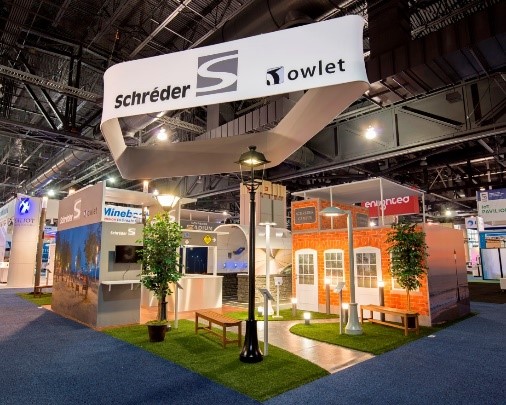 Image credit: Ion Exhibits
Rather than simply display the products that Schreder offers, this stand creates an inviting setting that shows how the products can be used to illuminate a space. Being imaginative with your graphics and adding extra elements, such as artificial grass, is a simple but effective way to turn your stand into a creative space.
Appsflyer by Barzilai Design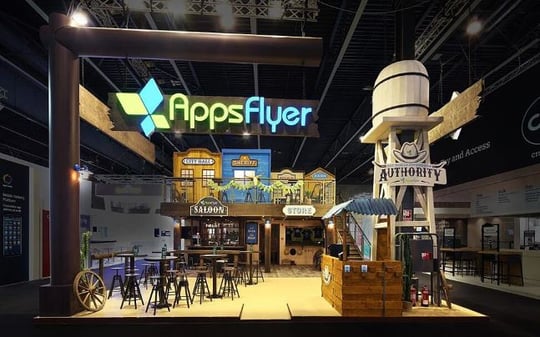 Image credit: Barzilai Design
Going with a theme for your stand can help you create a space that is unique to your brand. This is an exciting stand that attendees will want to approach to find out more about the company and the products or services it offers. This display by Barzilai Design followed an old Western theme built with wooden planks, featuring an open seating area, a bar and a DJ stand. To keep a balance between business and party, the upstairs level of this stand was built to be fully accessible private meeting rooms for those important conversations with prospects.
Eye-Catching Detail
Urban Green Evolution stand by WY-TP and Greenology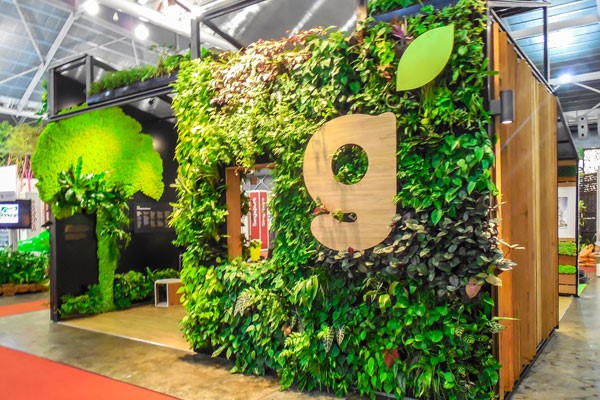 Image credit: Indesignlive
An effective exhibition stand should translate the brands values and message to its audience. This stand by WY-TP and Greenology highlights the purpose of the company with a complete vertical garden full of bright green plants. The natural elements of the stand attract the eye and create a welcoming space. Once attendees see this stand, they have an idea about the type of company it is and can approach the stand to learn more.
Horizon Organic stand by Condit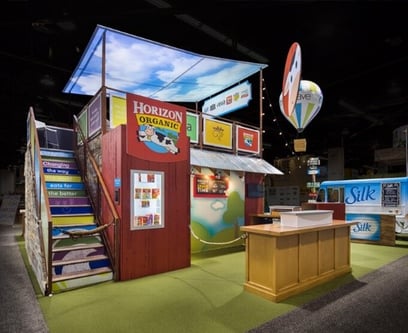 Image credit: Condit
This stand creatively makes the best use of a small space with a two-storey build. This allows the brand to have a strong presence, despite being in a small space. The bright colours and green grass-effect flooring bring the brand to life. The overhead sky graphics add a creative touch to the stand and captures the attention of attendees passing by. This is certainly a space that will attract attention.
Euro Car Parts stand by Clip UK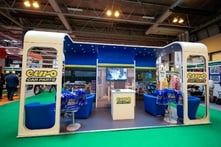 Image credit: Clip UK
If the rich, blue graphics of this stand doesn't catch your eye, then the quirky design will. The curved wall is a small change that adds a big difference to the overall atmosphere of the stand. The seating space remains very open and welcoming, while still offering privacy for meetings with prospects. Another eye-catching detail on this stand is the gift-bags. These are an incentive for attendees to approach the stand, and an opportunity for you to spark a conversation with them. The placement of these gift-bags, paired with the design, make it an appealing and approachable stand.
If you're still short on ideas for your exhibition stand, our designer can chat to you about the endless opportunities. Email us at letschat@events720.com or click the box below to get started.