Choosing the Right Exhibition Stand to Hire
by Chloe Mortimer, on 24/07/18 3:47 PM
There are three main types of exhibition stands you could hire. We have outlined these below, as well as the pros and cons of the different types of stands. Use this as an introductory guide to find the right rental stand for you.
Shell-Scheme Stand:
Shell-scheme stands are the easiest to organise, as you generally organise them through the exhibition supplier, which is who you need to organise your exhibition space with. There will most likely only be one type of shell-scheme stand on offer. Most exhibition suppliers offer shell-scheme stands that have plain white walls and aluminium frames. If you are sick of this style and want a change, you should let the exhibition organiser know so they can investigate other shell-scheme space options. If exhibition organisers have the a reasonable budget, often there will be customised shell-scheme stand options for the exhibition and you have a choice of different package options. These are priced accordingly to the space and type of stand that you may be able to hire.
Shell-scheme stands are often the cheapest option for exhibition stands, and while this is often a benefit for your budget, it can be detrimental to your brand image. There is often limited customised and branding options on shell-scheme stands, making it hard for you to be noticed amongst all the exhibitors.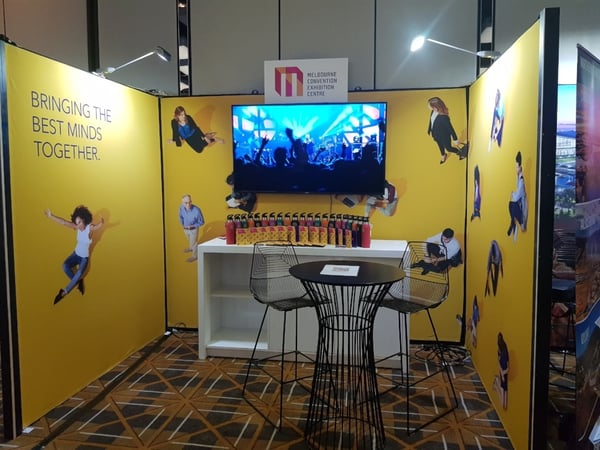 Shell-scheme stands are often set in size, and this is worked out by the exhibition organiser and supplier by how many exhibitors they are anticipating and what the size of the venue is. Because of this, you may not have the appropriate space to display all the products on your exhibition space if you choose a shell-scheme stand. You may have reduced space if you need to hire things such as counters to process sales and shelves to display products. You can often hire this exhibition equipment from the exhibition supplier, but you will need to consider how cramped this may make your exhibition space feel.
Consider, if you hired a shell-scheme stand that provided a basic 3 x 3m space, and then you needed a counter to have a laptop or basic POS system set up, and then you needed shelves for your various products, will it be easy for the exhibitors to access your products? Or will the whole stand feel far too crowded? In which case you may lose sales because potential customers will feel uncomfortable even accessing your stand.
PRO: Shell-scheme stands can be better for your budget because they are cheaper.
CON: They can also be the worst stand for branding and displaying your products.
Customised Rental Exhibition Stand:
This type of stand is very common among International exhibitors, as they don't have to worry about shipping the stand around after the exhibition. It can also be a cheaper option that buying a custom exhibition stand. Depending on the design, rental custom exhibition stands are often a third to half the price of a custom exhibition stand that you would purchase.
Often the customer already has a design that they would like built. There are plenty of exhibitors who would like a customised rental stand that don't have the design and need help creating the design. If you speak to a reputable exhibition stand builder, they will be able to help you design a stand that can be built and hired for your desired budget. An ideal budget for this stand option is $700-800 per sqm. This allows for a good design and a good quality stand to be built. It also allows for you to have things such as raised floor, good quality graphics that are the right size for the stand, and the right AV equipment on the stand.
A customised rental stand works the same way that a custom exhibition stand does, in that the exhibition stand builder will install and dismantle the stand for you, they will organise the transport and they will make sure that all the items of the stand are ready to go before the show opens.
A customised rental stand is a cost-effective way to have the right stand for your branding and display purposes. It allows you to display your products and any customised inclusions you want on your stand. This image below is from a customised rental we completed in April 2018. The solar-powered cubby-house was a customised feature, that we were able to create for the client. Because the client was renting this stand, as opposed to purchasing it, there was more money allocated in their budget to "wow" features such as this. Their budget also allowed for several meeting rooms, a rigged banner and raised floor. While not the cheapest option, a customised rental stand is a great option if you want a more customised stand, but don't have the budget or need to buy one.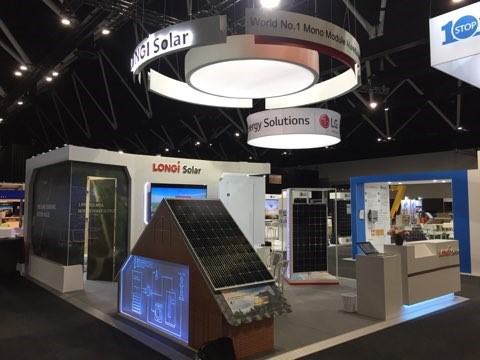 PRO: Cheaper than a custom stand you could buy, more space than a shell-scheme stand, and you can customise the stand however you want.
CON: You don't own anything at the end of the show. Although sometimes the exhibition stand builder might let you keep things if you ask. Often there is a further cost to keeping things from the stand.
Custom Off-The-Shelf Stand:
Most exhibition companies will have a range of exhibition stands for hire that they have designed themselves. These stands will be an upgrade of a basic shell-scheme stand but won't be as easily customised as a custom rental stand. There will be some options for customisation with graphics and branded counters etc, but in terms of being able to add customised features there is usually limited ability to do so.
If you are concerned about price, these stands usually range in between the two options discussed above. Commonly they're available in packages, with AV hire and different flooring options, which can be more economical when you want a better option than just a shell-scheme stand.
When exhibition companies design these off-the-shelf stands they try to imagine what the exhibitor might need the stand for, so you will often see a range of stands suited for different needs. Some of the stands will be perfect if you're going to need to conduct meetings with your prospective customers, other stands are better for displaying products. You should always view all the packages available to see if there is an option that suits your needs and your budget.
Comparing different rental stands from different stand builders can also be helpful to ensure that you choose a stand that suits your needs. There will be variations in design cost, however most stand builders charge the similar amounts for their rental stands.
Sometimes the stands have been designed to be versatile, in that they can be configured in a few different ways to be modular. You might need a 3 x 4m stand and the stand builders may be able to reconfigure their rental stands to accommodate this space where they don't offer this as an option.
PRO: Is a middle ground option in terms of price, there can be some versatility in design and configuration of the stand.
CON: You don't have full customisation options outside the range provided by the stand building company.
There can be many different options when it comes to exhibition stands you could hire. The more questions you ask when you engage with stand builders the better your chances of finding the right exhibition stand for your budget and needs. Have confidence that there will be a suitable option no matter what your budget is, it's a matter of investigating as many options as possible to find the right one.