A Complete Guide to Sydney: Where to Stay, Eat & Travel
by Events 720, on 4/06/19 12:15 PM
Now, it's time to start planning how you will get to the event. When exhibiting at an expo in a new city it's helpful to know the best places to stay, eat and travel. We've put together a guide to one of Australia's most busy and beautiful cities, covering everything from hotels to delicious meals: it's Sydney!
Where to Stay
30 Pitt St, Sydney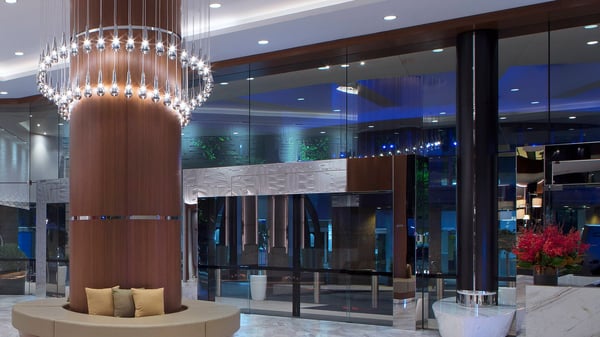 Image credit: The Marriott
For a luxurious hotel ideal for business travel, check yourself into the Sydney Harbour Marriott Hotel. The spacious, modern rooms come with great views of the Sydney Harbour, so you can soak up all of the city's beauty while you make those last-minute preparations for a day of exhibiting. All amenities and business services are fully available to you, so you can keep working efficiently and comfortably during your trip. With both a restaurant and a bar, you basically have everything you need in the same venue to unwind after a busy day at an expo.
199 George St, The Rocks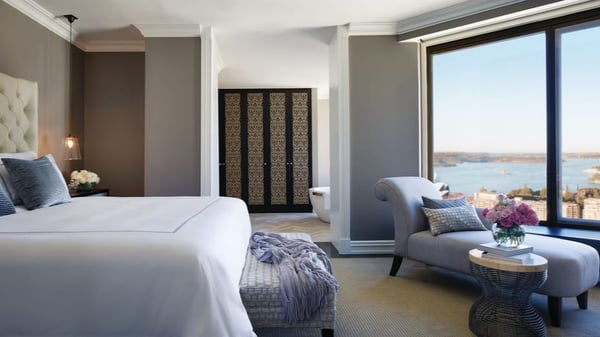 Image credit: Four Seasons
This luxurious hotel is located in the heart of Sydney, on the bustling George St. You can return home from the expo to a comfortable room and high-end service, with complete access to computers and internet for your late night sales follow ups. Or, venture out of the hotel to explore The Rocks, Sydney's trendy neighbourhood of laneways filled some of the city's oldest pubs and upmarket restaurants.
61-101 Phillip St, Sydney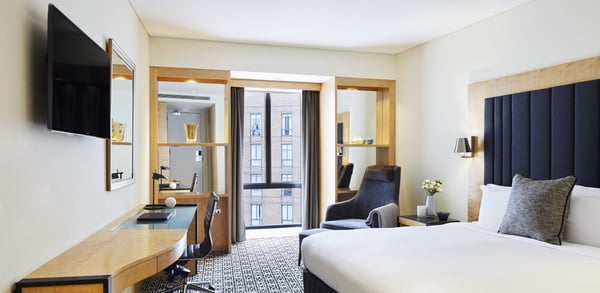 Image credit: Sofitel Sydney
If you're not interested in staying on the busy Darling Harbour, consider visiting the Sofitel Wentworth. This hotel provides a little escape from the bustle of Sydney's tourist-filled harbour, while still being perfectly located in the heart of central Sydney. The hotel sits only a short distance from the ICC, which is a prime spot for exhibitions and trade shows in Sydney. This makes your morning and evening trips to the event will be short and sweet. If you are preferring something along the harbour, look into the Sofitel's second venue in Sydney located on the Darling Harbour.
383-389 Bulwara Rd, Ultim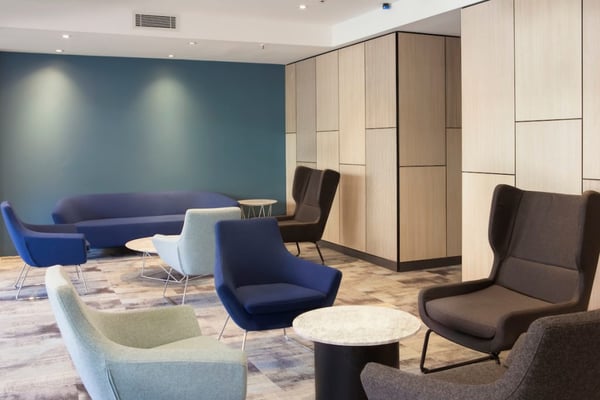 Image credit: Metro Aspire Hotel


The Metro Aspire Hotel provides great value for a great location. It's affordable, yet you won't be missing out on the action. It's located close to the ICC and Sydney's glorious attractions are still easily accessible. Situated in the inner suburb of Utimo, it's only a 15 minute walk from Central Station, so you can still make your way around Sydney with ease.
383-389 Bulwara Rd, Ultimo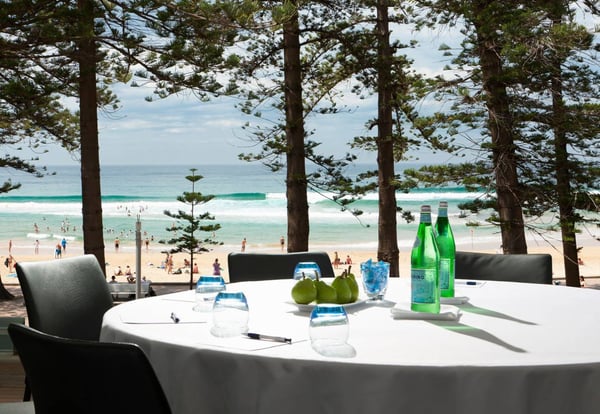 Image credit: The Sebel
Located at the South end of Manly Beach, this luxury escape is only a 30 metre walk from the sand. It's the perfect mix of business and leisure for your short trip to Sydney. You will need to take the Ferry from Circular Quay to get to Manly, but the trip is short and provides some great scenic views of the Harbour. Manly also has some great restaurants that are worth exploring when in Sydney.
Where to Eat
225 George St, Sydney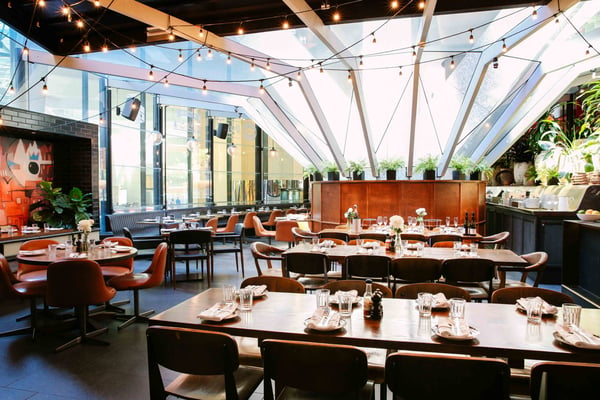 Image credit: The Morrison Bar and Oyster Room
This industrial chic styled restaurant is the perfect spot to treat your taste buds during your time in Sydney. The space is suited to the after-work crowd, catering to both small and large groups. Take a seat at the bar to watch your oysters shucked in front of you, explore the rest of their delicious menu. As it's located on the busy George Street, it's an easily accessible and appealing venue for many tourists and locals.
Northcliff St & Paul St, Milsons Point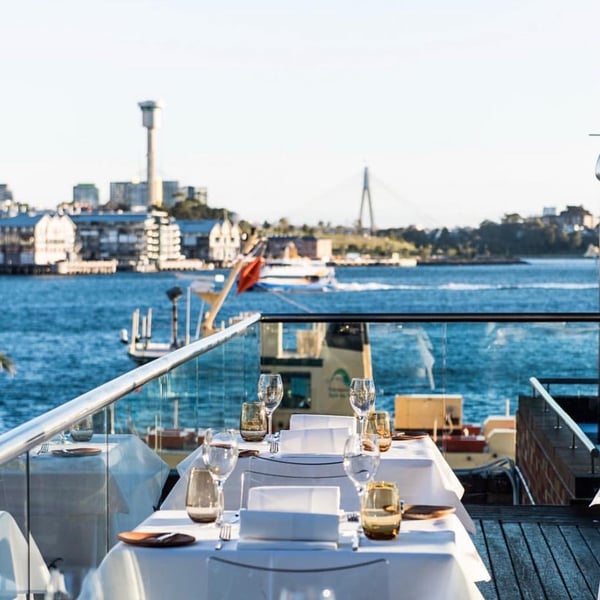 Image credit: Aqua Dining
This Italian inspired restaurant is one that certainly lives up to its name, as it's located right atop the Sydney Olympic Pool. The glass-walled room provides a complete view of the Sydney Harbour, including the Harbour Bridge and the Opera House. Aside from a great view, the restaurant also boasts a delicious menu featuring eggplant caviar and spanner crap. It's a great place to treat yourself after a long day of an expo.
ICC Sydney, Shop C08, Ground Floor/14 Darling Dr, Darling Harbour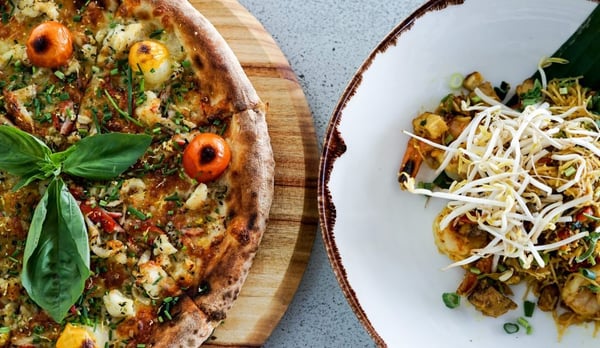 Image credit: Planar Bar & Restaurant
This luxury venue is located right on the Darling Harbour, where it services up modern Australian cuisine. The restaurant is tucked away from the busy crowds that gather around the Harbour, while still offering those picturesque views that everyone wants a taste of when visiting Sydney. It's only a stone throw away from the ICC, which is one of Sydney's top spots for expos, so you can expect find yourself quickly relaxing after a long day.
39 Lime St, Sydney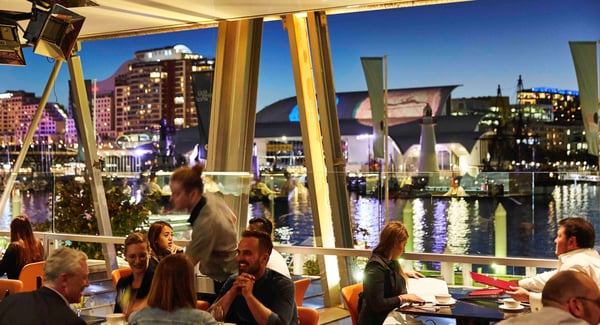 Image credit: The Malaya
For something different, the Malaya is the perfect option to spice up your evening meal. Since founded in 1963 and soon moving to its current King St location in 2001, the restaurant has served up authentic Asian inspired dishes, filled with flavours and spices. Settle into an atmosphere that overlooks the Darling Harbour, while you explore a menu of strong and flavoursome Malaysian, Singapore, Indonesian and Thai inspired cuisine.
Wheat Rd Balcony Level 1, Cockle Bay Wharf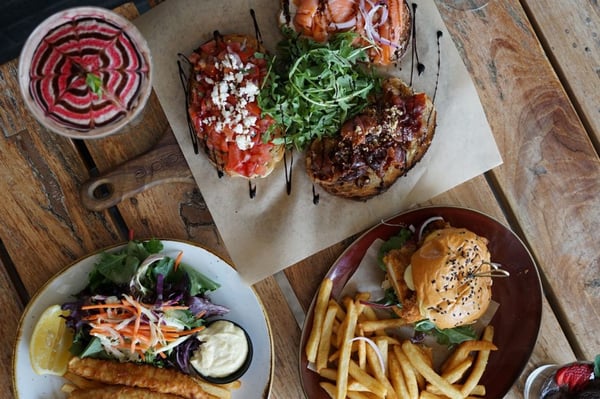 Image credit: Blackbird Cafe
This energetic and trendy café and bar boasts a range of delicious food and a picturesque view of the Darling Harbour. The venue is perfect for breakfast before an expo, business lunch, functions or a dinner to end a busy day. At an affordable price, you can enjoy the scenery while you eat a yummy meal. Located in the Cockle Bay Wharf, it's only a short walk from the ICC and right on Sydney's beautiful harbour.
264, Level 47 George St, Sydney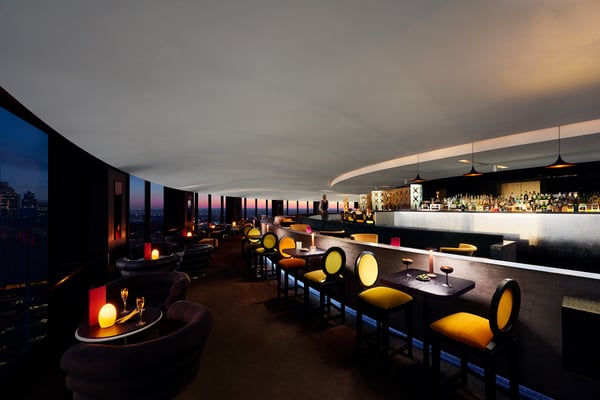 Image credit: O Bar and Dining
For an escape away from the busy Darling Harbour scene, without missing out on the views that Sydney offers, check out O Bar and Dining. If you're just wanting a drink or some light nibbles after a day of exhibiting, but still want to sit back, relax and enjoy the view, this is the perfect venue. Situated on the 47th floor, the outer ring of this restaurant is on a rotating floor, which means you can take in the views of Sydney from every angle over a few rounds of cocktails. It's a unique twist on your regular bar. There's no need to fight over who gets the table with the best view, because everyone will get the chance to see Sydney in all its glory.
How to Get Around
There's no denying that Sydney can be difficult to navigate. The traffic throughout the CBD can be an absolute nightmare. This is why we suggest choosing a hotel that's close to the venue where you're exhibiting at. But if you happen to end up a little further than a short walk from the expo or you have a spare day to explore the sights, don't worry because we'll explain all there is to know about Sydney's transport.
First up, you'll need an Opal Card. This is a pass that can be used on any train, bus, ferry or lightrail. You can purchase these from any station or some convenience stores, and then top up with money for each trip. Then all you need to do is tap on and then off.
One thing to keep in mind is the Light Rail addition. This means some streets may be closed for construction and traffic delays should be expected.
Trains
The train will transport you around the CBD and take you as far as the northern, southern, eastern and western surrounding suburbs. It's good for day trips around Sydney. They run until about midnight, and cost anywhere from $2.42 for off-peak, up to $8.50 per trip for peak hour.
Buses
These have more stops throughout the city and also provides late night services. Price is $2.20-$4.71. Keep in mind that buses will get caught in traffic during peak hours, so it still may be better to travel by train and only take a short walk.
Ferries
One thing that comes with having a beautiful harbour is ferries being a common means of transport. They'll take you as far as Manly and all the way to Paramatta. On the Manly Ferry, you'll get to see the Sydney Opera House and all of the harbour. To travel by ferry, all you need is an Opal Card. It'll cost you around $6-8
Taxi & Uber
Just like any other capital city in Australia, a great way to get around is via Taxi or Uber. For Uber, all you need to do is get the app and drop the pin at your location. For Taxis, hail on any street or find a taxi rank. Taxi's can also be booked by calling the company or downloading the app. The most common Taxi companies in Sydney are Silver Service and Premier Cabs.