A Guide to Perth: Where to Stay, Eat & Travel
by Events 720, on 30/07/19 12:20 PM
You've organised your exhibition stand, trained your staff and finalised your goals. Now it's time to start planning your stay at the expo destination. When exhibiting at an expo in a new city it's helpful to know the best places to stay, where to eat and how to travel around the city.
We've created a guide to the vibrant and historic city, Perth, to help you on your next trip to an expo.
One of Perth's most common venues for expos is the Perth Convention and Exhibition Centre. The PCEC is Western Australia's only dedicated conference and exhibition space, so it's no surprise that majority of the city's exhibitions and trade shows are held there. It features six exhibition pavilions that suit different attendance rates and offer views of the Swan River.
Where to Stay
Staying in the Central Business District means you are close to everything Perth has to offer. The CBD has prime connections for public transport, Uber's and Taxis, allowing you to travel to and from the trade show with ease. When you're not busy exhibiting, Perth's city centre also has a range of shopping, restaurants, and sightseeing to be enjoyed.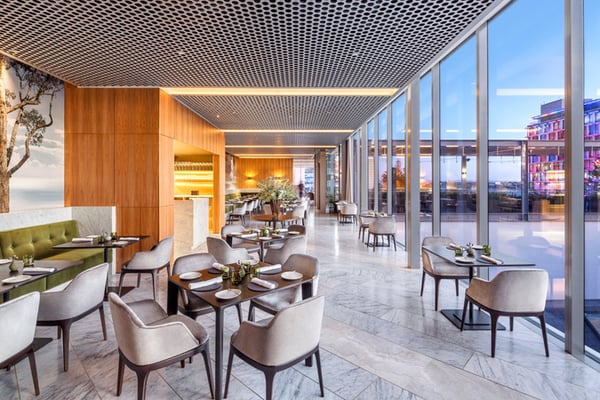 Image credit: The Treasury
This 19th century redbrick hotel offers a prime location for your short stay in Perth, situated in city's historic business district. With a range of luxe rooms, meeting spaces and amenities, you'll have everything you need to suit any requirement. The hotel also has two restaurants, a cocktail bar, a gym and indoor pool – keeping you both entertained and satisfied during your stay.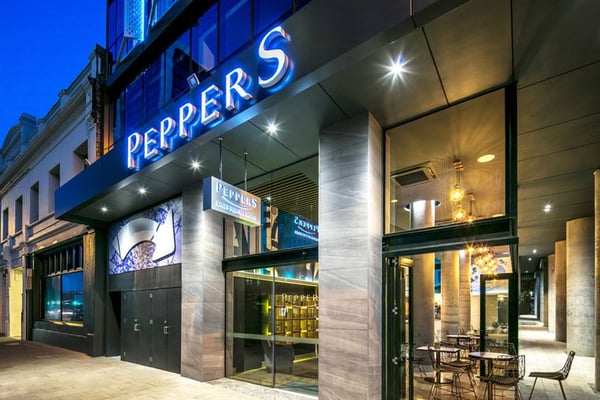 Image credit: Peppers Kings Square Hotel
Peppers Hotel is located in the middle of Perth's business district, only a short walk from the Perth Railway Station. The hotel interior has a bright, modern feel which further accentuates the relaxing essence of the space. With informal rooms, free wifi, a restaurant/bar, and spa treatments – the venue has everything you need to meet both your business and leisure requirements.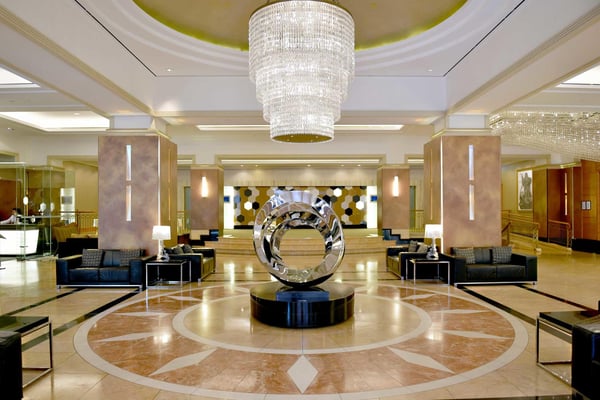 Image credit: Duxton Hotel
The Duxton Hotel is a luxury experience for an affordable price. The upscale hotel is located in the city centre, close to some of Perth's highlights such as the Western Australian Museum and the Perth Arena.
Each room offers free wifi and working spaces where you can prepare for your exhibition or continue gaining those sale leads after the event concludes. The hotel also offers an all-day restaurant/bar and a breakfast buffet so you won't have to spend time searching for somewhere to eat before or after the expo.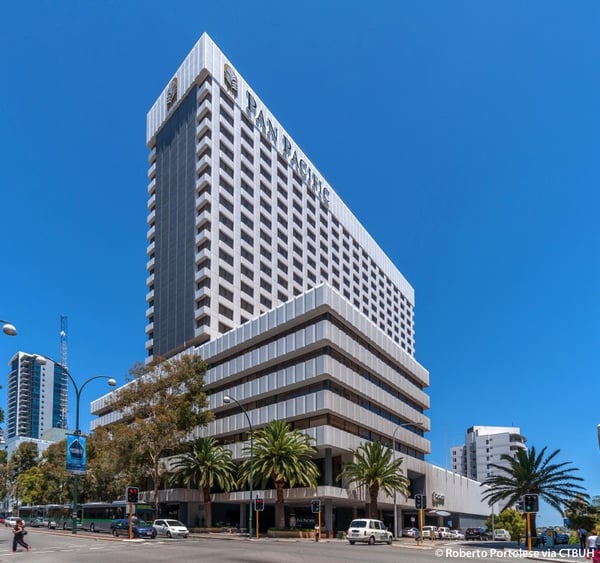 Image credit: Pan Pacific
A stay at Pan Pacific comes with one of the best views of the iconic Swan River. This stylish hotel is only a short drive from the Perth Convention Exhibition Centre, and easily accessible by public transport. The large range of refined rooms and suits offer a range of amenities to make your stay both comfortable and pleasant. Upgrade your room to include club-lounge access or a balcony so you can truly enjoy the luxury this hotel has to offer. The venue also has seven meeting rooms and a business centre which allows you to keep on top of those emails and last minute team preparations for the expo.
Where to Eat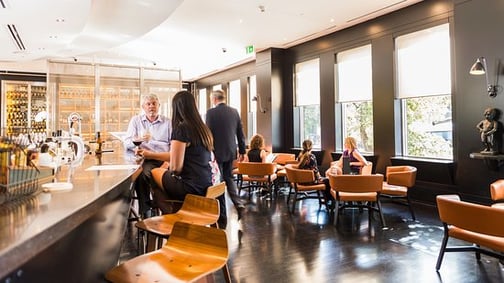 Image credit: Adelphi Grill
This contemporary all-day bar and restaurant is positioned in the Parmelia Hilton Perth Hotel, located just outside Perth's central business district. Adelphi Grill is a stylish venue, with sleek black floorboards and leather seating. It's the perfect spot for breakfast, lunch, dinner or drinks with your exhibition stand team. Enjoy a variety of steaks and burgers, or a buffet breakfast either in the relaxing restaurant or in the sunshine in outdoor area, Adelphi Alfresco.
The Print Hall is an award-winning multi-level precinct for dining, functions and events. Situated in Perth's city centre and featuring a number of spaces to suit any group of diners, the venue is both convenient, stylish and enjoyable. The venue has some great event spaces – Small Print, The Chairman's Office, and Bob's Bar – but it's the restaurants that truly make this space worth the visit.
Gazette is one of the restaurants Print Hall offers. Boasting a modern and stylish atmosphere, the kitchen serves up a renewed menu of Italian inspired cuisine alongside a range of local wines and cocktails.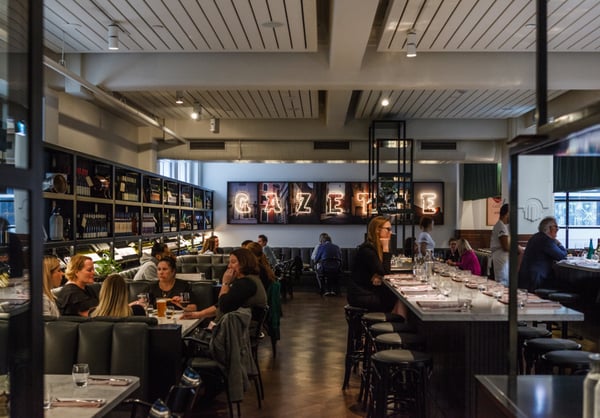 Image credit: Broadsheet
For a taste of something different, explore the range of exotic Asian street food at Apple Daily. The menu is designed for sharing with a selection of small and large plates, sides and desserts, making it a fun dining experience for your team.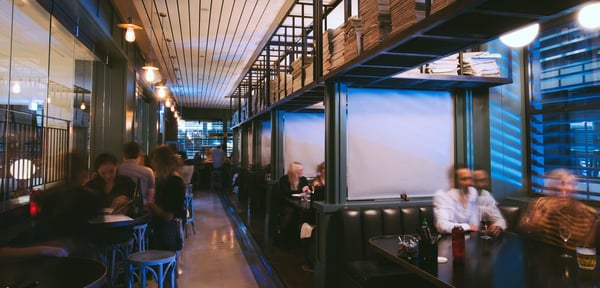 Image credit: Apple Daily
For a more relaxed experience, journey upstairs to the rooftop space Bob's Bar and enjoy craft beers, local wines and burgers to unwind from a busy day at the expo.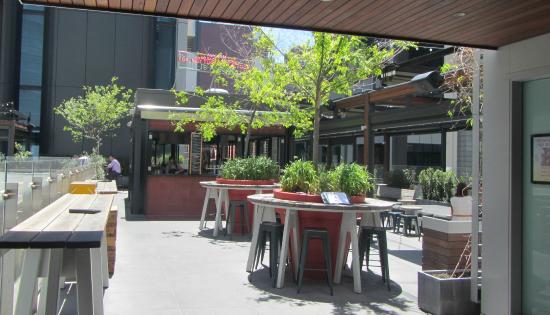 Image credit: Bob's Bar
Image credit: Lallah Rookh
This bar and restaurant offers a traditional and elegant dining experience with a creative menu. Alla Rookh is situated in central Perth, making it a convenient stop after the expo. The menu features some Italian favourites, gourmet desserts and craft beer. Don't waste time thinking about what to order, let the head Chef choose your meals based on what's seasonal and trending. The interiors feature soft neutral tones, creating a modern and relaxing dining experience.
How to Travel
With a well-established public transport network, travelling throughout Perth is simple and quick. Choose from taking the train, bus or ferry to wherever you need to be, or even catch an Uber or Taxi.
Public Transport
In Perth, the public transport is operated by Transperth and consists of trains, buses and the ferry. To travel you'll need to purchase tickets based on the zones you'll be travelling through, or a SmartRider card. Trains are an easy way to travel within the city, with six lines running from each end of the city and all meeting at the Central Perth Station on Wellington St. Services operated from 5am until midnight.
Buses are another option for travel to reach destinations the trains won't take you too. For travelling in the CBD, you can catch the free CAT Bus, which runs every 5-15 minutes on weekdays.
If you wish to travel across the Swan River, the ferry is a must. It's often very popular with tourists for it's scenic route.
Taxis and Uber
Just like other major cities in Australia, Taxi's and Uber's are easily accessible, affordable and reliable. You can book a taxi by calling, hailing or booking through the smartphone app. Ubers can be booked through an app on your smartphone, with the option to travel on your own or carpool with other riders.