A Guide to Adelaide: Where to Stay, Eat & Travel
by Events 720, on 2/07/19 1:43 PM
You've organised your exhibition stand, trained your staff and finalised your goals. Now it's time to start planning your stay at the expo destination. When exhibiting at an expo in a new city it's helpful to know the best places to stay, where to eat and how to travel around the city.

We've created a guide to one of Australia's most busy and beautiful cities, Adelaide, to help you on your next expo trip.
Where Expos Are Held
There are two main venues in Adelaide where expos are held. The Adelaide Convention Centre is a modern venue where majority of the city's trade shows and conventions take place. It consists of three buildings and is positioned at the heart of Adelaide's Riverbank Precinct, just 15 minutes from the airport and the CBD.
The Stamford Plaza is another common destination for expos of a smaller scale. It's located the centre of the city, opposite the Convention Centre, Adelaide Casino and Parliament House.
Where to Stay
150 North Terrace, Adelaide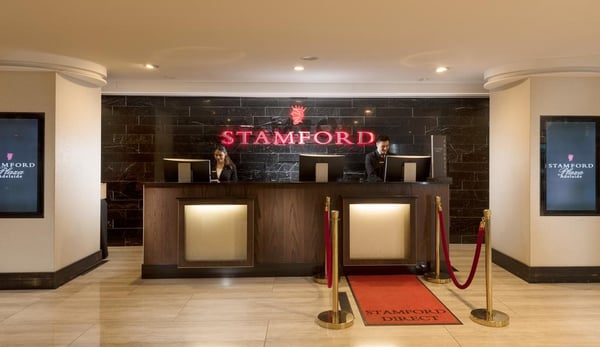 Image credit: Booking.com
Apart from being a popular destination for expos, the Stamford Plaza is also a luxury hotel, perfect for your short trip to Adelaide. With over 330 rooms, boasting either city, parkland or river views, there's something to suit any preference. The venue provides amenities for leisure and business, with four restaurants and bars, a rooftop pool and a gym.
16 Hindmarsh Square, Adelaide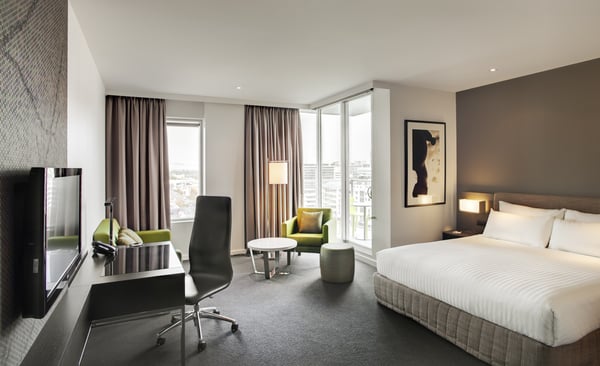 Image credit: Pullman
The Pullman is a modern and tasteful hotel centrally positioned in Adelaide's CBD and only a short walk to the trendy restaurant filled East End. The hotel is full of entertainment areas and facilities that allow you to relax or continue the hard work after the expo, from an indoor pool to a complete business centre.
150 Glen Osmond Rd, Fullarton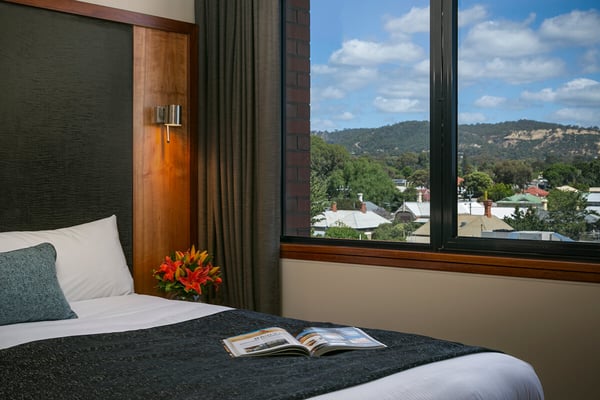 Image credit: Arkaba Hotel
If you're looking to avoid the busy city, be sure to consider the Arkaba Hotel. It's located less than 6km from the CBD and the Adelaide Convention Centre, making it close enough to manage the journey but far enough to escape the hustle. With several bars, meals and conference facilities, the hotel provides everything you need to make your stay easy. It offers 62 guest rooms, ranging in styles to suit your preference.
45 King William St, Adelaide
Image credit: Mayfair Hotel
The Mayfair Hotel is situated in the perfect CBD location, only a 7-minute walk from Adelaide train station. The high-end hotel is an old 19th century building, offering charm and character throughout the space. Free Wi-Fi is also available so you can continue working on your sales after the expo has finished, or enjoy the many amenities, from the restaurant and rooftop cocktail lounge, to the free Wi-Fi and business centre.
122 Grenfell St, Adelaide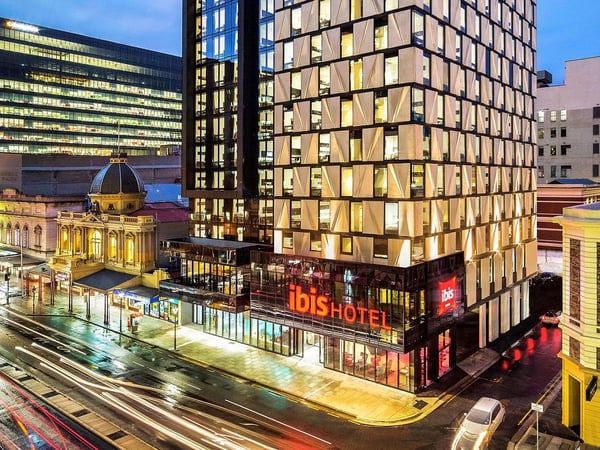 Image credit: Booking.com
Hotel Ibis is a sleek and affordable CBD hotel with a modern atmosphere. It's a great price for the quality you receive and with over 300 rooms there's something for you to choose from depending on your preference in size and views. With conference rooms and meeting spaces, you can enjoy the benefits of both business and leisure.
1 South Terrace, Adelaide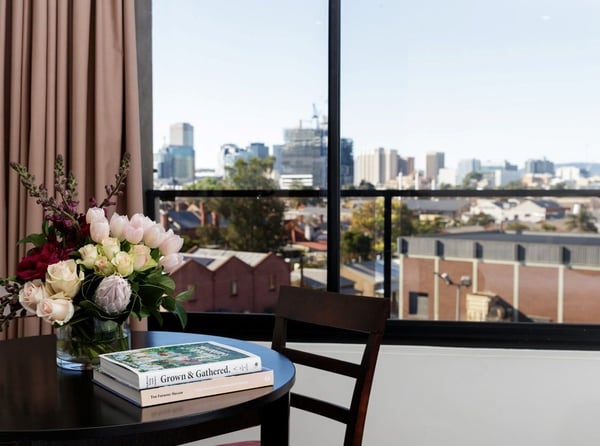 Image credit: Rydges
Rydges is a laid-back hotel that provides all the amenities and service you need for the perfect trip to Adelaide. With free Wi-Fi, a bright restaurant and café, complete gym and a rooftop pool, you have everything you need within one building. The rooms feature either city or park views, letting you soak up Adelaide's beauty. As it's located only 2km from the Central Market and the CBD, it's both a central and convenient hotel perfect for your short stay.
Where to Eat
17 Solomon St, Adelaide
Image credit: Facebook
A bar that serves up wood fired pizzas in a funky and fun atmosphere. This pizza is fluffy and topped with flavour. Make sure you check out the wine list, while you enjoy the fresh air at the laneway window. It's a welcoming and fun space to unwind after a busy day.
4 East Terrace, Adelaide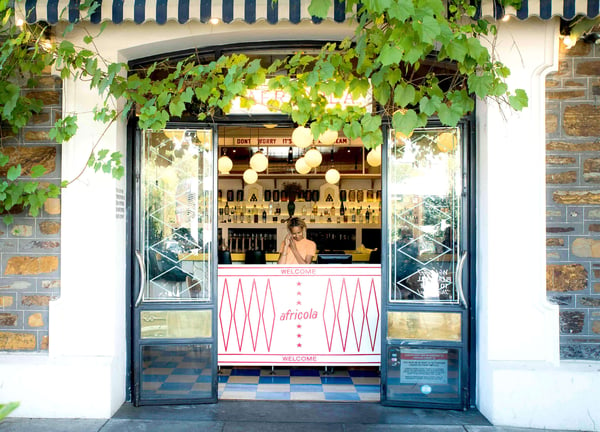 Image credit: Africola
Africola is Adelaide's favourite African inspired restaurant that serves up an array of vegetables, grilled and smoked meats, flat breads and natural wine. With an eclectic and relaxing setting, it's a great place to celebrate your success at the exhibition. Choose from a variety of share platters for the team and explore the many cocktails the restaurant has to offer.
285 Rundle St, Adelaide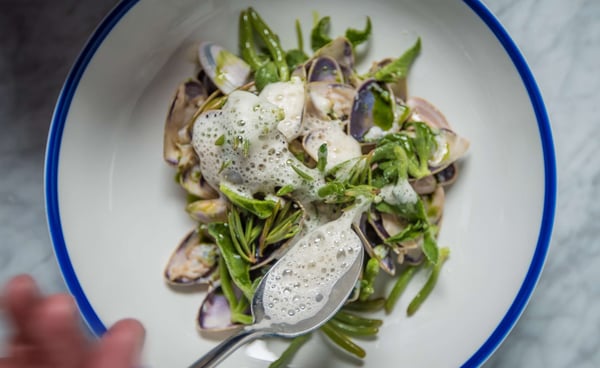 Image credit: Bistro Blackwood
Bistro Blackwood is the sibling restaurant to the 2018 Restaurant of the Year, Restaurant Orana. Although it doesn't have the same fine-dining setting, it doesn't compromise on the food, with a seasonal menu that draws from Indigenous ingredients and techniques. The bistro is relaxed, inviting and offers a dining experience that suits any group, from business dinners to families.
beachfront, 269 Seaview Rd, Henley Beach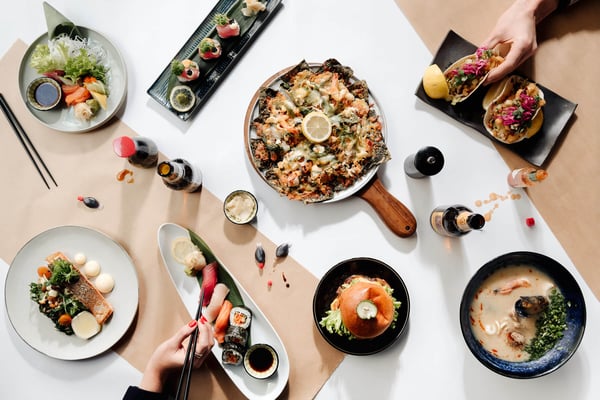 Image credit: Sea Salt
The trip to Henley Beach is worth it to visit the beachfront restaurant Sea Salt Seafood and Grill. Indulge in the high quality, fresh, local and sustainable seafood or grilled meats. The beach side location provides the perfect location for a relaxing sunset meal.
40 Waymouth St, Adelaide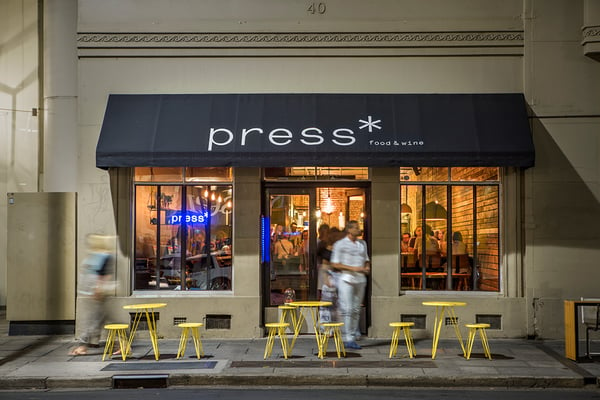 Image credit: Press Food and Wine
Located in the heart of Adelaide's CBD, the warehouse turned restaurant provides two relaxing dining spaces split over two levels, with the downstairs offering a relaxed vibe and the upstairs providing an elegant dining experience. The menu ranges from a variety of chargrilled steaks, beef tartare, roast pork and a selection of offal. If you're looking to treat yourself after a busy expo experience then this is the place.
How to Travel
Public Transport
Buses, trains and trams are all easil accessible in Adelaide. To travel on these you will beed to purchase a MetroCARD, or a MetroCARD Visitor Pass that will give you three days of unlimited travel.
Trains
Adelaide has a great rail network that makes it easy to visit places outside of the city.
Trams
Trams are a very useful from of transport that operates through the city and inner suburbs. Tram services run every 10-15 minutes from 7am until midnight, so you'll never have trouble getting to and from the expo.
Buses
Adelaide has a free City Connector bus in the CBD. This is a good option, but services run 15-20 minutes so you may need to account for additional delays.
Taxi and Uber
Just like other major cities in Australia, Taxi's and Uber's are easily accessible, affordable and reliable. You can book a taxi by calling, hailing or booking through the smartphone app. Ubers can be booked through an app on your smartphone, with the option to travel on your own or car pool with other riders.