5 Exhibition Stand Must-Haves
by Kyrah Howell, on 10/01/19 12:00 PM
Let's face it, the world of exhibitions can be overwhelming. There are now endless ways to be creative, innovative and competitive with your exhibition stand, but this can often lead us to forget what our display REALLY needs to offer.
We want to help you along your expo journey by putting together a list of five exhibition stand must-haves. From an eye-catching design to an attention-grabbing smile, it's time to focus on what simple elements are most important and how your stand can benefit from them.
Despite being overwhelming, the world of exhibitions can also be a fantastic experience for yourself and your business.
A stand-out display to invite your audience
We wouldn't be Events 720 if we didn't emphasise the importance of having a great display. With the busy crowds and neighbouring competitors, it's important that your display can stand out and invite people in. However, despite common assumptions, your exhibition stand design doesn't need to be crazy and complicated in order to attract attention.
To create the perfect stand, ensure your design has a theme and a cohesive brand image. Use colours that represent your business and the services you are offering. Red is bold, blue is informative, white is opportunistic, black is daring – consider how your display reflects your business and whether people will approach.
Another way to stand out is by, literally, standing out. Add height to your display so that you can always meet your audiences' line of sight, no matter where you are in the room. After all, your display is your business card so it's vital you make a great first impression and reflect what your business has to offer.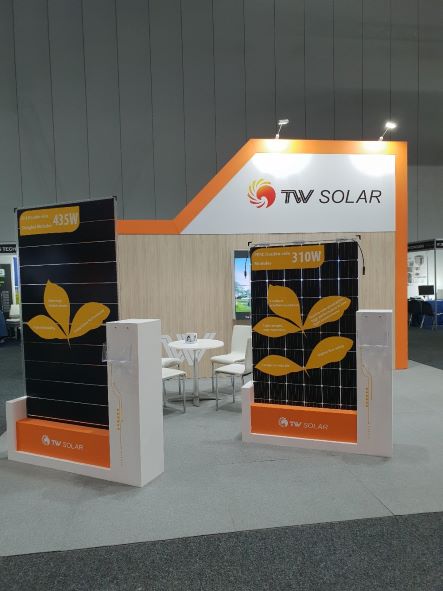 A warm welcome
Your display's design will capture people's attention and encourage them to approach your stand, but it's up to you to entice them to stay. The best way to achieve this is simple: smile! Offering your audience a warm welcome as they approach or pass by can help to create a positive atmosphere at your stand and gain interest.
A great method for understanding how to act at your stand is to put yourself in your audience's shoes. Would you feel comfortable approaching the attendee at your stand? Would you prefer to approach someone who was slouched and looking at their phone or someone who was standing straight, making eye contact and smiling?
This is such a simple, yet crucial, component of your stand and can often become overlooked. Invest time into making sure the stand attendees reflect what you want to achieve. Don't underestimate the power of a warm smile.
Opportunities for interaction
Once you've attracted your audience, it's important that your display encourages engagement and can uphold their attention. Offer them an experience that feels exclusive to any other display in the room.
This can be achieved by introducing interactive elements into your design. Consider a simple lounge area for visitors to relax within the space or introducing interactive computers screens where visitors can be entertained and educated about your business or services.
Utilise product displays and offer visitors the chance to try your product or service. This will help showcase your product and ensure people are engaging with your display and, therefore, your business. These are easy and affordable additions that can have a significant impact on the overall performance of your expo display and your business.
Social media is also a great tool that creates interaction between companies and their customers. Include usernames and hashtags in your displays design to encourage visitors to connect, share and interact with your company.
One on one engagement
It's important to remember when you're attracting people to your stand that it is for a purpose: to create positive relationships. Having a unique stand design and interactive elements are fantastic, but it is also beneficial to communicate effectively with your visitors in order to develop a connection with them. You can do this by introducing smaller meeting spaces within your display where information can be shared and discussed comfortably.
This can be achieved by adding single stands, booths, benches or stools to your display design. These simple methods act as meeting points that open opportunities for one-on-one discussions and engagement between the exhibit worker and visitors.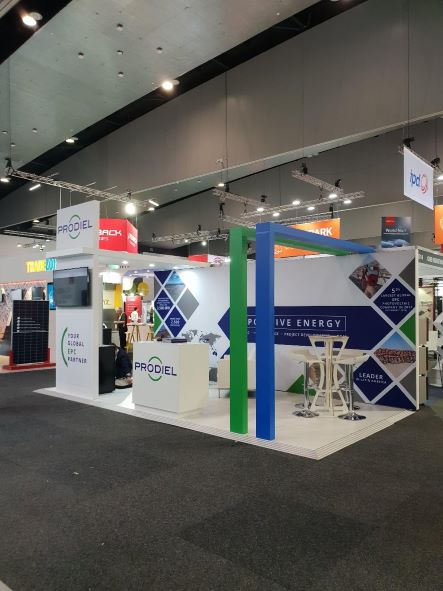 In the photo above a counter and a simple arrangement of table and stools were utilised to create a space within the display where visitors could connect with the business one-on-one. When interest about the business was expressed, this arrangement allowed the display attendee to build a connection in a space that was both easily accessible and private.
Offering these meeting points in your display lets your visitor know you are available to answer any queries or concerns they may have.
A worthwhile experience
Now that we've discussed design, interaction and engagement, there's one final element your stand must have: a worthwhile experience. It's important to ensure your attendees walk away from your stand feeling positive about your business.
To achieve this, you can offer something of value for your visitors to take away. These items could be branded business cards, brochures, pens, reusable bags or water bottles.
Giveaways don't always have to be physical objects. Your visitors can leave your stand with newfound knowledge of your business, the industry or your products. They can leave feeling assured their questions were answered and their interest was sparked. Directing visitors to your social media pages or web-page is also a great way to share your business with them and encourage a positive experience.
Much simpler now, right?
Exhibitions don't have to be overwhelming. When you're planning your expo display, simply make sure you're ticking off each of these five must-haves and you can have a successful stand that, not only looks great and works great, but keeps you smooth sailing through your exhibition adventure.
If you want to hear more about how you can create a brilliant stand, get in contact with us on letschat@events720.com. We're always here to answer any queries and share our advice.