12 Ways to Attract More Visitors to Your Exhibition Stand
by Kyrah Howell, on 12/02/19 12:10 PM
Exhibitions are an excellent opportunity for your brand to generate leads and build a positive brand image with your target audience. But they can also be a difficult space to navigate. Achieving your exhibition goals largely comes down to your exhibition stand visitor rate. With strong competitors surrounding your stand and busy crowds of attendees moving through a sea of graphics, lights and giveaways, it can be challenging to encourage attendees to develop an interest in your stand.
Exhibitors are always searching for exciting new ways to stand-out at an exhibition and attract a crowd. We've put together 13 useful ways to attract more visitors to your stand and generate leads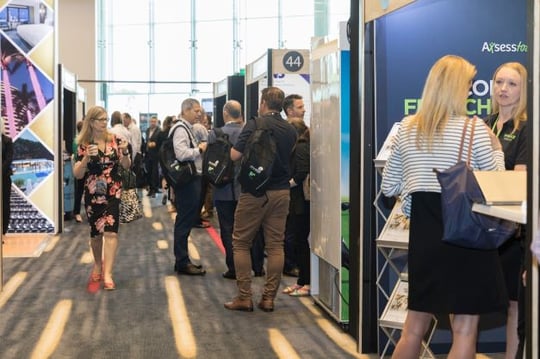 1. Use pre-show marketing tactics
Promoting your exhibition stand prior to the expo is a great way to gain interest and increase your visitor rate. There are many tactics that can be used to attract visitors, from creating landing pages and info-graphics, to implementing a social media campaign and sending out newsletters.
Speak to the expo organisers about advertising on the event show guide or their website before the event begins. This will help you increase your visitor rate by ensuring your audience is well-informed of your stand, what you are offering and where you are located.
Use your pre-show marketing to promote any other tactics that you will be using at your exhibition stand, such as competitions or demonstrations. This will generate hype and interest in your stand in advance.
To find out about the benefits of pre-show marketing and how you can use it for your exhibition stand, visit our blog post for helpful tips and information or contact us on letschat@events720.com.
2. Invite existing customers
To attract a group of loyal and interested visitors to your stand you can utilise your current network of customers. Inform your current customers through email or phone that you will be exhibiting and personally invite them to attend. If you have created strong and beneficial relationships with your customers, then they will likely be willing to support your business at the expo.
Be cautious about focusing too much of your energy on current customers. While it's great to acknowledge your loyal customers, avoid ignoring potential new customers as they should be the focus for generating new leads and subsequent sales.
3. Be visual
Having a unique design, bold graphics and striking content is essential for making your exhibition stand noticeable at a busy exhibition. Ensure that your stand is visible in the venue with lighting, bright graphics and raised flooring. This will help your exhibition stand capture the attention of attendees and entice them to approach your stand.
Our designer works with our clients to create the perfect stand suited to their business and goals. You can speak to our designer about your creative vision and develop a design that is unique, practical and within your budget.
With so many ways to have a creative stand, it's important that your stand also communicates a clear message and reflects your brand. Sometimes keeping it simple is more effective.
4. Showcase products with displays and demonstrations
92% of trade show attendees say they are looking for new products, so be sure to showcase your products and services at your stand with displays and demonstrations. This is a great way to attract attendees as it provides them with the opportunity to use the product themselves before they commit to buying.
Hosting a product launch, and communicating this prior and during the event, will also encourage attendees to visit your stand to receive a VIP experience with the product.
5. Have approachable staff
In the same way that you invest time and money in your exhibition stand, you also need to invest in your staff. Ensure that you are putting your best foot forward by selecting members of your team that are knowledgeable and approachable.
The staff at your exhibition stand need to be well-trained in communicating with prospects. They need to know how to approach people in a way that is friendly and informative, rather than overwhelming or pressuring. Work with your staff to develop a plan for when people approach the stand. They need to know how to respond to attendees and prospects. For example, "I'm just looking" means you should avoid pushing. Point out things that might be of interest, but then leave them to browse comfortably.
Your staff also needs to be knowledgeable of your business so they can speak about the products and services confidently. This also includes having a uniform or dress code that is professional, yet approachable. Make sure that they stand up and move around the space, rather than stay seated behind a desk.
6. Offer a relaxing space
With hundreds of exhibitors trying to gain attention and sell products or services, expos can often become chaotic and overwhelming for an attendee. You can be the solution to their problem by providing a space that is welcoming and relaxing for attendees to enjoy. Keep your space simple and easily accessible with comfortable seating or lounge areas. This will invite attendees in to take a break from the hustle and bustle of the event. This also gives you the opportunity to engage them and build positive relations. Events 720 offer furniture hire solutions to help you create the perfect space. You can visit our store to see what we have on offer and speak to our team about styling options.
They say the best way to people's hearts is through their stomach. Offering refreshments at your stand, such as cold drinks or coffee, is another incentive for visitors to approach your stand to unwind, interact with your staff and other attendees.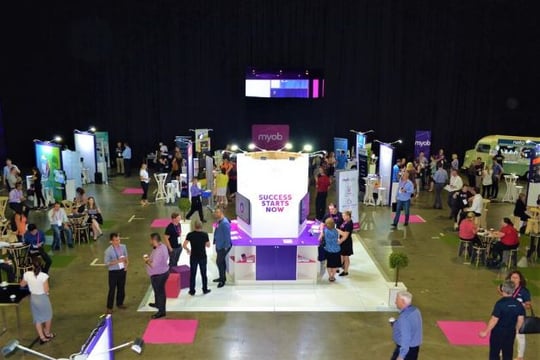 7. Give to receive
Giveaway's are very popular at trade and consumer shows. People are drawn to free products, but it's important that they are worthwhile. If executed well, giveaways can be a great way to ensure your attendees remember your business.
Think about your target audience, who they are and what they like, then decide on a giveaway that will suit them. For example, if your audience are fitness junkies with a busy lifestyle, then a great giveaway may be a branded gym towel or protein shaker.
Your giveaway should also provide value to your business. It's ideal that you receive something in return, such as an email address or a scheduled meeting/phone call.
8. Provide useful resources
Your exhibition stand can offer more than bright colours and graphics. Think about giving away a whitepaper on a topic of interest to your audience or provide access to exclusive e-books online. This allows you to share your knowledge and provide solutions to your audience.
A great way to do this is to send branded USB's containing useful content to visitors after obtaining contact information. This will encourage people to approach your stand, but it also helps you gather contact details for future lead generation. It's important that your exhibition stand, and your staff clearly communicate in some way that these resources are available.
9. Reward with a competition
Giving people the opportunity to win a prize is a classic way to attract attention. Make sure the competition ties in with your product or service and supports the message of your marketing campaign. Your stand and staff need to visually and verbally communicate that the competition is running so that it achieves its purpose. Include the competition in your pre-show marketing to ensure people are aware.
10. Put forward a guest speaker
Often at trade and consumer shows there will be scheduled guest speakers sharing information and advice on the industry. A great way to create buzz and excitement around your exhibition stand is to have an important and reputable member of your business, such as a CEO, Managing Director or Operations Manager, as a guest speaker at the expo. This will establish your business as thought leaders within the industry.
If you are unable to secure a spot as a guest speaker, having one of these important members at your exhibition stand speaking about the product or service will also increase your attendance rate and create customer engagement. If you are showcasing a product then invite one of people who worked on building the product to speak about the process.
11. Have a well-thought layout
The layout of your exhibition stand is just as important as the design. Creating a welcoming and well-placed layout will allow people to enter and move around the space comfortably. Plan your layout so that some products are towards the front, to grab attention, but product displays or demonstrations are located away from the congested aisles to allow interested customers to view them uninterrupted.
12. Introduce exciting technology
Using technology can help to attract visitors to your stand by offering them something to engage with. Audio and visual components are simple installations that can make a huge difference to your stand's attractiveness. Mounted TV's can help you showcase your products and information.
Take it a step further and use virtual or augmented reality at your stand. This gives the user a life like experience with a product or service, helping them form a better understand. Virtual reality can generate hype, creating a user experience that's unique, memorable and engaging.
Bonus tip: Get social media savvy
Using live social media, such as live tweeting, Instagram stories or live streaming, will help you gain the attention of attendees. Use the hashtags related to the event to connect yourself wit the expo and gain traction.
Now that you've got some ideas for making your exhibition stand a show-stopper, it's time to start planning your expo journey. We can help you with all exhibition services, from stand design and building to transportation and installation. Contact us on letschat@events720.com or call 03 9131 1625. You can also click the 'Contact Us' form below and we can assist you with any needs you may have.