A guide to creating a Pop-Up Park
by Jessica Caggegi, on 3/05/22 9:42 AM
Pop-up parks are starting to become popular through multiple councils and government infrastructures.
So, what is a pop-up park? A pop-up park is a temporary activation space or installation created within a public area or site. They are used in main streets, shopping centre locations or various council areas to encourage public activity and engagement. Their overall aim is to increase local support for surrounding traders, draw attention to local performers or transform an existing space for the local community to use.
Events 720 have put together a key guide in terms of design, materials, and important key factors to consider when designing a pop-up park activation.


A crucial component to any pop-up park is the design. There are two key components which go hand in hand when talking about design.
The first is the physical components or visual appearance of the pop-up park. When designing a space, it is crucial to ensure that the design of park elements is really tailored to the site location.
Trying to use a cookie-cutter method will not be the best approach as getting the design correct will be a determining factor as to whether people will use the space successfully or not. In our previous experiences, the more time and effort that is invested into the design, the greater success and impact it seems to have on the overall public.
The second component is the materials used. Materials used can really compliment the natural surrounding aesthetics or quirky street scape scenery. The finishes used will also be a key to the pop-up parks success as this encourages engagement and longevity.


Designs that can support multiple locations are an important and successful investment. Having a system which can be changed into multiple configurations and settings will not only allow for ample use but also a higher success long term. Modular components are the key!
Our modular elements ensure you can re-use each element not only in a different configuration but also allows for each item to work combined but individually as well.
When designing a pop-up park, we want each element to be fit for purpose and if the items are too specific or too bespoke it will create challenges down the track when it is time to pack up and reuse at a different site or location. The key here is to try and not only think about the present and where the design will be situated for the time being but also to think ahead and long term enough, that it will also be of successful uses time and time again there on after. Ask yourself questions like; how will it look like the next time it is used in a different space? Can we use elements as a group setting but also confidently individually as well? Asking yourself these questions, within the design process will really help you pinpoint exactly what it is that you want out of the pop-up park too.


Weather is always a huge factor in how a pop-up park is built. The build methods are essential in not only determining if it can be used repeatedly but also if it will withstand wear and tear and extreme weather in Australia, whether that be rain, hail, or shine.
Depending on the location, pop-up parks seem to be used for a period varying from 3 months all the way through to 12 months. Some food for thought is to remember that these are public spaces, so therefore they aren't maintained daily or have someone overseeing them consistently. Because of this, the materials used to build these elements need to assist in ensuring they service these requirements of being self-sufficient in a sense. We strongly recommend using finishes such as stainless steel, structural form ply, treated pine as these have given us the most success in withstanding weather and public use. Our elements are in a sense are overengineered and that is purely to assist with giving them the greatest lifespan possible.
In our experience, pop-up parks have been highly successful in not being abused by the public in terms of vandalism or graffiti; however, we need to remember these are still a public asset and space.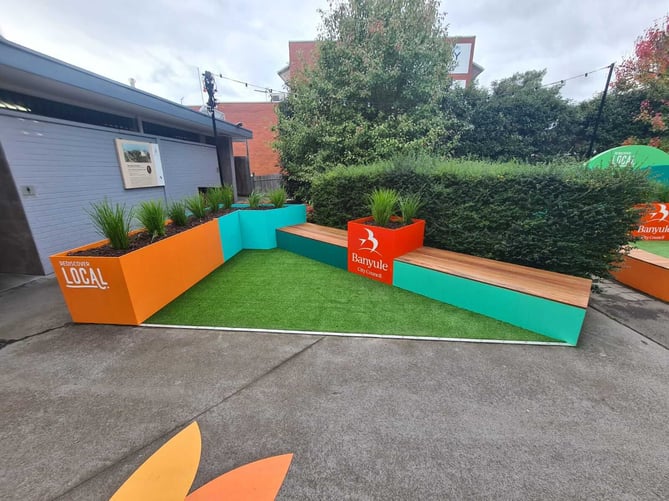 When planning for a pop-up park there is a great deal of elements to digest and really think about. Events720 can help you there!
We can assist you rest assured with an easy and seamless process.
By taking the above into consideration and planning out the best use of your space that works within your requirements.
Let's get the ball rolling and get in touch with us today!