Consumer and trade shows are a great way to build brand awareness and generate sales for your business. But before you can start achieving those goals you need an exhibition display that can capture attention and stand out against competitors at a busy expo. With inspiration coming from all around the world, there are never-ending ways to be creative and exciting in your design, from using new technology to virtual reality installations.
If you're considering exhibiting the chances are you already have some great ideas for your display in mind. But you just have one problem – you're not a designer. So, how do you communicate your ideas and vision to someone else without losing important details? Or, if you're unsure about your design and need help with your creations, how do you ensure your designer can understand what your exhibition display needs?
The solution is to develop a thorough yet concise design brief for your designer. Investing time into researching and preparing an overview of your wants, needs and goals for exhibiting can help make the design process run smoothly and guarantee you an amazing display. It's ideal to receive a great design based on your brief, rather than reject multiple designs because they don't reflect your business. At Events 720 we work closely with our clients to understand what they envision for their stand so you can exhibit with a display you love and helps you achieve your goals.
Creating the ideal design brief isn't a one-step practice – there are many aspects that your designer needs to know and understand in order to create the design you want and need. But that's where we come in! We've developed a simple process you can follow to help you and your designer create something amazing.
After reading these helpful tips we'll give you a useful template you can use for all future design briefs.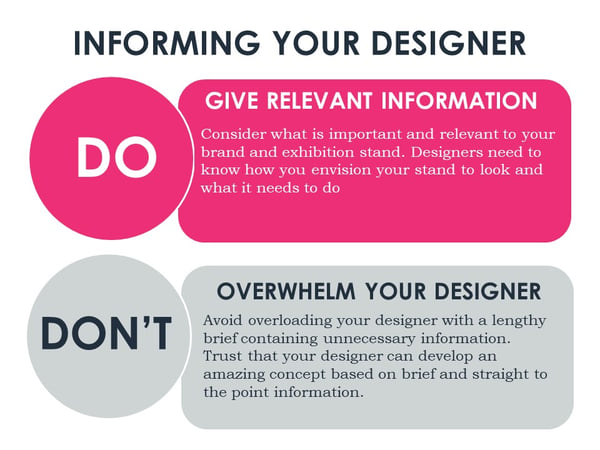 1. The 5 W's
The first thing a designer needs to know when designing the perfect exhibition stand for your business is the 5 w's - who, what, where, when and why.
Who
Your brief needs to provide your designer with a concise overview of who your company is. Include enough details for our designer to form an understanding of your company as this will help them create a design that reflects your brand and image. It's important not to overwhelm your designer with too much unnecessary information. Try to avoid lengthy descriptions of the company history or the business structure. A great start is to briefly explain who the company is, how the company started and who the relevant contacts are.
Additionally, it can be helpful to inform your designer of your exhibition experience. Have you exhibited before and what experience did you have? What did you like or dislike about your previous stand design? How can you improve on previous exhibitions?
What
Include a description of the products and/or services your company offers, and which of these you will be promoting at your exhibition. This will help your designer determine a suitable practical layout that caters to what you have. For example, if your product is food then your stand may require cooking appliances incorporated into the design.
Where
First tell your designer the exhibit you will be attending so they have an idea of the space. Then let your designer know where your display will be located in the venue. If you are unsure about which expo to choose, head to our most recent blog post 'Tips for choosing your next expo' for some helpful tips. You can find the post here.
When
Don't forget to include the date that you will be exhibiting! The designer will need to know this so they can manage their time effectively. Remember to allow enough time for your designer to develop the design you want. Allow time for potential review and modifications. Developing a design that you want, and love becomes more difficult to achieve if time restrictions are too constraining.
Why
Include your goals in your design brief so your designer is aware of what you are hoping to achieve with your display. If your designer knows and understands why you are exhibiting, they are able to better understand what you need in a display. For example, if your goal is to generate sales through your product then you will need adequate space to display and store products. If your goal is to generate leads then you might need an enclosed, private space to speak with prospects.
2. Who is your target audience?
Exhibition displays are designed to attract attention and help you interact with your target audience; therefore, it's important that your designer knows who you are trying to reach. If your target audience are young buyers looking for an exciting product, a design that is too formal and simple may be off-putting.
Investing time into conducting market research can reveal your target audience's values and attitudes. Once you know this you can cater your exhibition stand to suit them and guarantee you are attracting them.
3. What space do you have?
Before you can start with the extravagant designs you and your designer need to know how much space you can work with. If you are unsure, contact the expo organisers to clarify these details. Find out if there are any requirements or limitations for stands.
Knowing a space also means knowing how people can work within the space. Will they be able to use the space effectively? Will there be a natural flow of people through the space? Will it feel too sparse or overcrowded? Our designer is able to design a space that looks great but also functions great. Before they can do this, they need to know the amount of space. If a designer doesn't know the square metres, then they may design a concept that is too large or too small.
4. What type of stand will you use?
There are, in fact, three types of stands: custom, modular and shell scheme. Space and budget will largely dictate which type of stand you can use. Your space and budget will largely dictate the stand that you use. Your designer will be able to help you in choosing which stand suits you.
Custom stands allow you to create the space you want without restrictions. Every aspect is entirely customisable and designed to suit your brand exactly the way you want.
Modular stands are commonly used for a medium to large sized space. They are adaptable and allow you to create a stand that works well for your product and/or service.
Shell scheme stands offer less freedom in placement of where things go, but your designer is still able to work with you to ensure you make the most out of your space.
5. How do you want your stand to look?
Here's where we come to the fun part – deciding the visuals of your stand. There are a number of elements you'll need to consider. Your designer is always full of creative ideas to put into action, but it's good to have some ideas of your own as a starting point.
Below is a list of elements to consider.
Flooring
The two most common flooring options you need to consider are carpet and raised flooring. You will need to use raised flooring if you require three-phase power, a large capacity of power or water supply to your exhibition display. Raised flooring can be costly compared to carpet, however both can be customised with colours and designs to attract attention.
Walls
The height of your walls may be limited by the exhibition organisers. This will be outlined in the exhibitor manual or you may need to contact the organisers. If your stand has a shorter height limit think about how you can make your walls stand out by using different angles. Curved walls are great for attracting attention, but at times aren't realistic due to building requirements. Our designer at Events 720 thinks carefully about whether the design can be built and will only present designs that our production staff can build to standard.
Rigging/Support
Rigging can be a great way to enhance your brand presence at an exhibition by suspending signage, banners or lighting above your display. Rigging might also be required if your stand needs extra support.
Furniture
Depending on the goal for exhibiting, you might require furniture. This can be as simple as table and chairs for interacting with your target audience. Events 720 can provide any furniture you require, so make sure you inform your designer so they can factor this into the overall design.
Lights
Don't underestimate the power of great lighting. This can help create an ideal atmosphere and attract attention. Lighting can be added by installing down lights or LED light strips. Remember that your stand design will also need to factor in how these lights will be powered.
Audio & visual
Introducing audio and visual elements into your stand is a great way to attract attention. But these will also dictate your overall stand design. You may need a TV or speakers, in which case think about where these will be located in your display and how they will be powered. If you're goal is to generate sales or leads with prospects, you may need a laptop or tablet. Your design will then need to factor in storage and power for these items.
Logo
It's great to have a strong brand presence at an exhibition. This can be achieved by using signage and logos to promote your business. However, be careful not to overwhelm visitors with visuals. Speak to your designer about how to display your logo to ensure you reflect your brand and attract attention.
Graphics and colours
Similar to logos, using the correct graphics and colours can help to reflect your brand. Think about which elements of your display you can enhance using graphics and colours. Be creative in your decisions – what about using graphics on the flooring or on shelves to catch people's eye? Ask your designer about how to achieve this – they have lots of great ideas waiting to be shared.
If you're still unsure about what decisions to make regarding the visuals and practicality of your stand, we've got you covered! Head to our previous blog post 'The process of organising an exhibition stand' and we'll take you through a functional design checklist to help you design the best stand you can.
6. What is your budget?
Your budget is possibly the most important factor of your design brief as it can control everything from size and flooring, to graphics and lighting. It's helpful to know your budget before briefing your designer so that a design can accurately reflect what is realistically possible. You will need to think about what elements of your exhibition display are the most important and cater your design to suit. Understand that a more limited budget will not allow you to have every component of your design perfect. If the use if visuals and audio is most important to you, then consider compromising on lighting or stand size to ensure the design stays within budget.
Don't waste time and effort by letting your designer create a design that won't suit your costs. A large and extravagant design won't be possible if you have a small budget. You can save time and effort by letting your designer know your budget early.
Often the cost of a stand can be underestimated due to a misunderstanding of the pricing of materials. To help you understand this better, check out our blog post all about estimating the cost of an expo stand.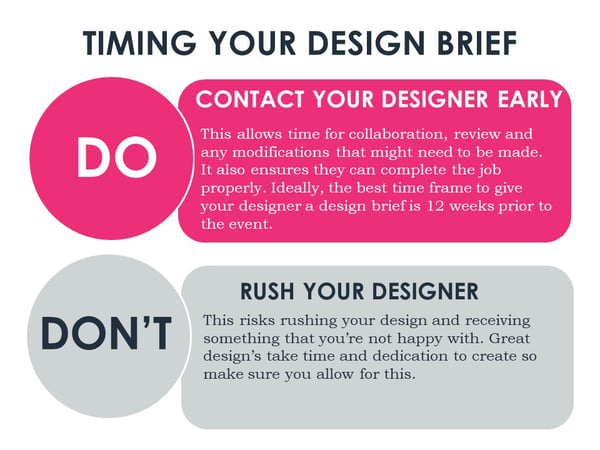 Bonus tips: how to choose the best designer for the best stand
Your design brief will be no use to you if your designer doesn't have the skills and experience to translate this into a functional and competitive stand. Choosing the right supplier and designer is very important if you want to get the most out of your exhibition.
You may choose to research designers and select only one to submit your brief to, or you may send your brief to multiple designers at once. Whichever method you prefer, there are some important qualities you should be looking for.
Experience – your designer should be experienced within the expo industry. Choose someone who specialises in trade shows to ensure they understand the logistics of building a stand.
Success – look at the designer's previous work and the satisfaction with that work. To check out our work visit the 'Our Work' page or visit our Instagram.
Value – choose a designer that can give you the best value for your budget.
Listen – the key to great communication is the ability to listen. You can achieve great results if you choose a designer that listens to your needs and cares about what you want in an exhibition stand.
Creative – to stand out amongst competitors and attract your target audience you will need an outstanding display. Choose a designer that can think outside the box and give you a stand unlike any other.
Time to get started!
After reading through this article you should hopefully have a better understanding of what goes into a design brief. By having the skills and knowledge to develop a great design brief that outlines your wants and needs, you can guarantee you end up with an outstanding display design.
To help you kick-start your design brief we've created a template that's easy to follow and takes minimal time. You can download the template here.