How do you set your exhibition apart from the competition?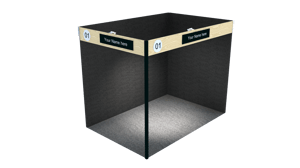 You offer something that your competition doesn't. With a great looking shell-scheme stand that doesn't break the bank, you can offer a shell-scheme stand that helps your exhibitors stand out.
Events 720 shell-scheme stands are available with the following inclusions:
Fascia Signage
2 x LED Spotlights
Black Carpeted Walls
Single Power Supply
We also offer registration counters for event organisers that have plenty of space, this allows for easy registration processes for the duration of your event. There are various stand accessories, furniture packages and AV equipment available for exhibitors to hire to improve their exhibiting. Our shell-scheme stands are available in two different configurations, 3x3m or 3x2m. This allows some flexibility depending on the location of your event and how many exhibitors you have.