Replace boring white walls with something exciting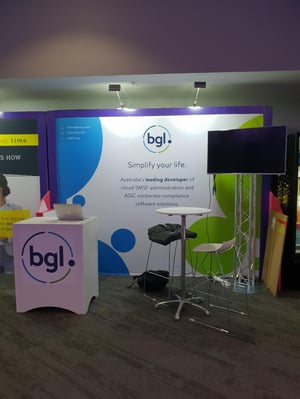 Offering a custom stand to exhibitors at your event will help them stand out. It replaces the boring white walls and aluminium frames. As seen in these pictures, our client has incorporated their branding into the custom stand to offer their exhibitors. It helps to create a uniform look across the exhibition.
With additions such as furniture and cabinets there are so many options for your to customise your exhibition and offer a better solution to your exhibitors.
Custom exhibition stand options can have all the regular inclusions you would see in a shell-scheme stand such as:
Fascia Signage
LED Spotlights (either 1 or 2 depending on the size of the booth)
Walls - either painted or carpeted depending on the graphics you would like your exhibitors to have
Single Power Supply
Choice of Shelves or No Shelves
Any particular inclusions you would like the stand to have
We also offer registration counters for event organisers that have plenty of space, this allows for easy registration processes for the duration of your event. There are various stand accessories, furniture packages and AV equipment available for exhibitors to hire to improve their exhibiting. Our custom exhibition stands are available in different configurations and lengths and these can reflect the location of your event and how many exhibitors you have.